Exclusive pic A massive fire on the disused industrial estate where the 2012 Olympic park will be built has created a plume of smoke visible across London.
Firefighters were called to the blaze just after 12:00, and eight appliances are now said to be in attendance. During the early stages of the blaze, large fireballs characteristic of burning fuel were visible across the rooftops a kilometre off.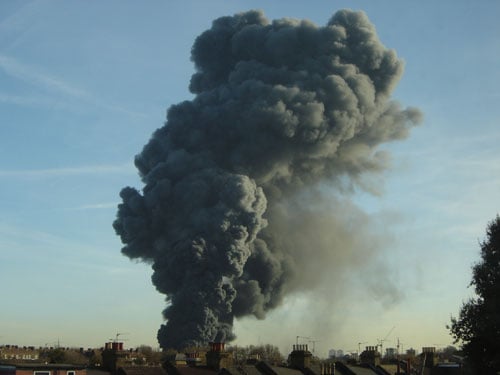 The Metropolitan police have already stated that no terrorist involvement is apparent, and that seems like a sensible analysis. The Waterden road area was home to old, run-down light-industrial buildings, all marked for demolition to make way for the Olympics. While the smoke plume is eyecatching - and will lead to a lot of grimy windows across the city - the fire doesn't seem likely to have any serious effects.
Panic stricken City traders, noticing the pall, seem to have caused a blip in the market, but Reuters reports that the stripey shirt lads have already calmed down.
The sensation is probably as much due to the excellent visibility across London today as anything else, allowing millions of people to see the smoke. ®