British firm Burnside Telecom has launched its latest GSM handset, but it's one to replace the phone on your desk, not the one in your pocket.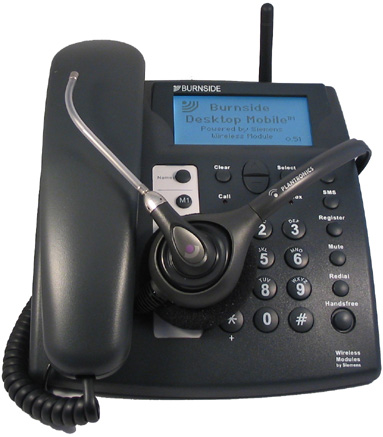 The Burnside P350
The P350 is a desk top phone which happens to use a GSM network. It's quickly deployed in temporary offices, but can also allow a company in rented space to bypass their landlord's fixed-line infrastructure, which can be overpriced.
Mobile operators spend a lot of time trying to convince consumers to use their mobile phone for everything, but few have tried the same thing in the enterprise market - at least not yet. Where mobile networks have been used to connect desktop phones it's generally been where fixed infrastructure doesn't exist.
But the cost of mobile calls is dropping fast and, for businesses, the flexibility of being able to easily relocate the phones when moving offices could be appealing. Though at £199 the P350 is going to need some operator subsidy to be attractive.
Even more attractive would be the combination of a handset of this type with femtocell technology, allowing cheap calls and office flexibility.
With MS-TAPI, and call centre style headset support, the P350 certainly has the features to provide an office phone experience on a mobile infrastructure, but it might be too soon for companies to seriously consider dropping fixed-line calls, except where the alternative doesn't exist. ®