This article is more than 1 year old
OLPC offers one-for-two to generous North Americans
Give One. Get One.
For the next 15 days, it's not just One Laptop per Child. It's One Laptop per Donor.
Early Monday morning, the One Laptop Per Child (OLPC) association launched its Give One, Get One programme for donors in the US and Canada. Over the next two weeks, if you donate $399 to the foundation, one nifty Nicholas Negroponte laptop will go to a child in need and another will go to you. Click here if you'd like to play.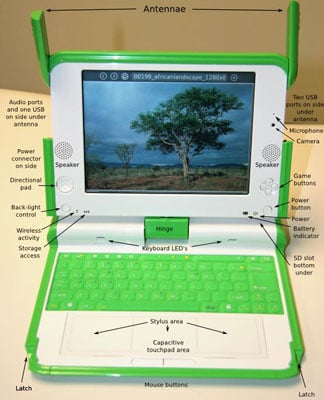 Nifty Nicholas Negroponte laptop
Previously, North American tech fans couldn't get their hands on the much-discussed XO laptop, designed specifically for children in developing countries. Measuring 9.5 x 9 x 1.25 inches and weighing about 1.5 kilograms, the XO includes a 433-MHz AMD Geode LX-700 processor, 256MB of memory, and a 7.5 inch display. But it looks mighty cool. And you get an SD memory card slot.
What's more, half your $399 donation is tax deductible, and donors in the US also get a year's worth of free access to T-Mobile's HotSpot Wi-Fi service. That comes in handy when you're drinking bad coffee at Starbucks.
Mass production of the XO began this week at a new Quanta factory in Changshu, China. And last week, Electronic Arts said it would donate a copy of the original SimCity for each and every XO shipped. ®