Review If skinny stuff does it for you, be it spray-on jeans, slim-line coffee or even soccer players, you're going to like the Pentax Optio M40. In fact, it's so slender, you'll want to sit it down at a table and give it a good nourishing meal. Measuring just 18mm front to back, the Optio M40 is easy to slip it into a pocket and forget it's there.
Despite it's anorexic appearance, the M40 still successfully packs in a lot of features. There's an eight-megapixel CCD for starters, not to mention a 6.3-18.9mm lens - equivalent to a 36-108mm lens on a 35mm camera - and almost 32MB of internal memory, enough to store up to five images at the highest resolution (3264 x 2448) or 87 at 640 x 480 (VGA) resolution.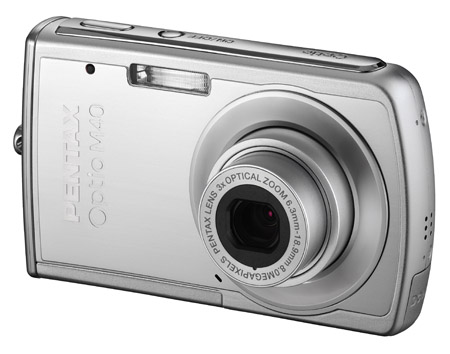 Pentax's Optio M40: model good looks
The M40 is clean and uncluttered, with lots of smooth edges, and it's a nice camera to hold. The only thing spoiling its sleek lines is the stubby strap lug sticking out the side. On top are just two buttons: power and shutter. On the back is a 2.5in LCD composed of 150,000 pixels; a zoom rocker - you get a 3x optical zoom and a 4x digital zoom, which together, gives you up to 12x magnification - a playback button, a multi-way rocker controller, a Menu button and a green reset/delete button.
Tucked away on the bottom of the right-hand side is a small plastic cover for the power socket. The cover is on the flimsy side and a bit of a bugger to put back in place. At the bottom of the M40 are slots for the battery and for SD/SDHC cards, plus a mini USB port for connecting the camera to a PC or a printer. We thought this was a nice touch, as most USB slots are tucked away behind flaps. This way, you can simply shove a USB cable into the camera and you're ready to connect.
The M40 is dead easy to use: press the power button on and the camera purrs into action. Mind you, it's not the fastest kid on the block and it's several seconds between power-on and first shot. Shutter response time wasn't that great either, as the auto-focus system likes to take its time locking onto a subject. Now, we're not saying that the M40 is as slow as a man hobbling on a pair of crutches, but if you're looking to capture the decisive moment with this camera, you might find yourself disappointed with the results.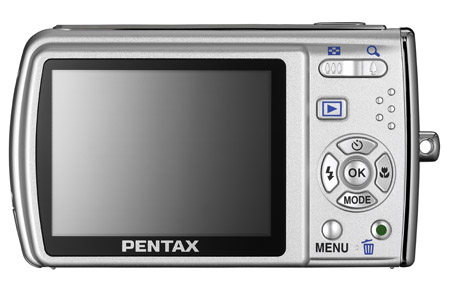 The 2.5in LCD screen is effective in most conditions
There's plenty of scope for adjusting various parameters including, the picture resolution and image compression level, ISO sensitivity (from 50 to 3200) and exposure (from -2 to 2 EV in 0.3 EV steps). Focus settings include auto, manual, pan focus, infinity, macro and super macro, and these are easily selected with the multi-controller. Same goes for flash mode (auto, on, red eye reduction and soft). There's also a timer control (2- and ten-second delays), continuous shooting (although this is disabled in most shooting modes) and no fewer than 16 shooting modes, including night, portrait, landscape, movie and natural skin tone.
Sponsored: Webcast: Discover and secure all of your attack surface