Axe hangs over UK town's analogue TV signal
Whitehaven forced to go digital tonight
Residents of Whitehaven, Cumbria will tonight become the first UK inhabitants to lose analogue TV transmissions. At 2am, the region's BBC 1, ITV 1 and Channel 4 analogue signals will be permanently switched off.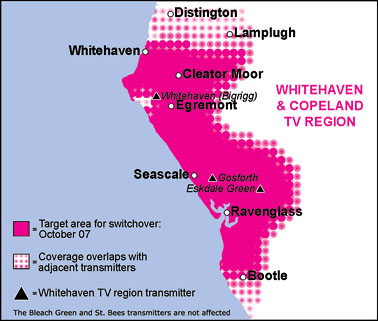 The Whitehaven and Copeland TV region
Last month, the town and surrounding area of Copeland lost its BBC 2 analogue signal. However, come 2am all residents will be forced to go digital by either subscribing to Sky or switching to Freeview – or risk losing the delights (you sure about this - Ed?) of Eastenders, Emmerdale and Hollyoaks.
Whitehaven's residents have had access to around six digital TV channels through Freeview since its BBC 2 analogue signal was switched off. However, come 2am the region will gain the viewing rights to around 20 digital channels.
Digital UK, the Quango* created to manage the digital switchover, claims around 500 of the area's 25,000 residents are still to make the switch. So it's set-up several help centres to assist residents, until Thursday.
Whitehaven was apparently chosen as the first British town to have its signal cut because it has a dedicated transmitter. It's also claimed a change of signals there won't affect neighbouring areas.
Next for the chop is the Border TV region on 6 November 2008.
*Quasi-Autonomous Non-Governmental Organisation.