This article is more than 1 year old
Russians offer Terry Pratchett-style droid luggage
Remorseless motorised robo-bag impossible to shake off
Reports out of Russia indicate that a battery-powered motorised suitcase which automatically follows its owner will be on the market in 2009*.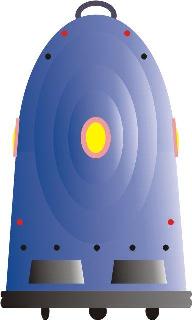 No escape from dirty laundry.
Russia-Infocentre says the Terry Pratchett-style mobile, smart luggage will track a "sensor-card" carried by its user. The manufacturers seem to indicate that the card will sound an alarm if the suitcase gets lost.
The case itself will feature a gyroscope, ultrasonic and infrared sensor technology, and onboard software allowing it to handle inclined surfaces and sudden drop-offs. The battery - with built-in multi-national charger - will hold enough juice for "two hour traffic", and best of all the case will feature a "water resistant hull" able to hold 30kg of cargo.
The makers say the design is named "Tony", after a famed Canadian robo-luggage designer. They reckon the waterproof gyroscope ultrasonic infrared electric suitcase would cost just 49,000 roubles (£965).®
*Pinch of salt.