This article is more than 1 year old
NASA to trial Moon balloon pneumo-podule in Antarctic
Airbag lebensraum plan for Mars, too
NASA has today showcased plans to test its inflatable habitat technology - intended for deployment on the inhospitable surfaces of the Moon and Mars - by conducting a dummy run in Antarctica.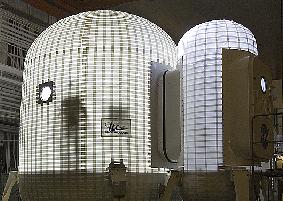 Inflated housing predictions from NASA.
Space agency bigwigs announced today that a prototype blow-up moon airbag base facility would be exhibited to the press, before becoming "a component of the McMurdo Station in Antarctica from January 2008 through February 2009".
It seems that the freezing but otherwise comparatively mellow environment of McMurdo Sound is expected to offer insights into the inflata-hab tech's likely performance in the thin, dry Martian atmosphere - or even the alternately hot and cold airless vacuum of the lunar surface.
According to NASA:
Using reports from explorers braving the harsh Antarctic environment and data collected from the habitat's sensors, designers will evaluate the concept of using inflatable structures to support future explorers on the moon or Mars.
Vegas property tycoon Robert Bigelow has elaborate plans to sell balloon real-estate in actual space, but thus far hasn't said anything about planetary surfaces. This NASA effort seems to be, erm, in-house. ®