This article is more than 1 year old
Creative Zen media player
Spiritual enlightenment by way of sound
Review Creative's latest MP3 player offers a 2.5in screen, video playback capabilities, photo viewer, voice recorder and an FM radio. It claims to provide 25 hours of battery life and is the size of a credit card. Sounds good on paper, but does it all come together in practice?
Despite beating Apple to market with the Nomad MP3 player and being eventually credited with the mother of music player user-interface patents, Creative has always been stuck in Apple's shadow. Its offerings to date have been well-received, but it has never come up with that 'breakthrough' device to give it true mass-market success.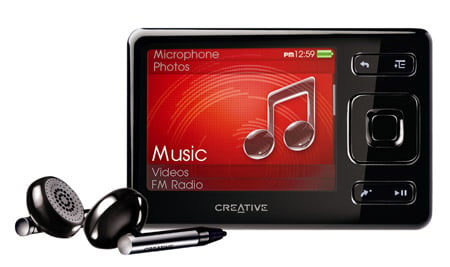 Creative's Zen: enlightenment for the iPod generation?
The Singapore-based company is hoping that its latest offering, the almost spiritual-sounding Zen, will make a difference. Launched as the flagship model of Creative's Flash-based line-up, it offers all the basic functionality that the iPod Nano - reviewed here does and - those looking for an Apple alternative will be happy to note - a little more.
The Zen is a small, black rectangle with a 2.5in landscape-oriented screen that can display 16.7m colours. The front of the device is glossy and is mostly the screen, while the back is a matt-black metal with a pleasing logo dimple.
The controls are found to the right of the screen. From the top down, there's a Back navigation button and a contextual-menu key. Next comes the square five-way controller for volume adjustment and track-skipping, then a Forward menu button and Play/Pause. The right-hand side of the player is home to the power button that doubles as the lock key. Below it sits a mini USB port and the headphone jack while. There's an SD card slot and a mic on top of the player.
The controls are well placed, but you do wonder why there are separate Back and Forward buttons when this functionality surely could have been incorporated into the D-pad. When getting to grips with the device, we did find ourselves naturally going for the D-pad only to remember that there were separate buttons.