Creative Zen media player
Spiritual enlightenment by way of sound
The Zen's menu, organised in a list that you scroll up and down, reveals the full functionality of the player with options for Microphone, Photos, Music, Videos, FM Radio, Extras, Memory Card and Settings.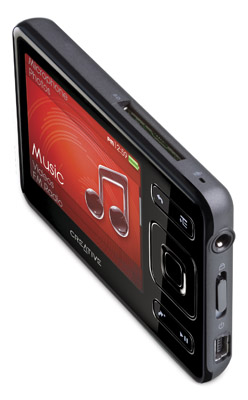 Skinny, init?
The microphone is a straightforward voice recorder that records in WAV format, perfect for execs on the go or those prone to important out-loud ramblings, and it worked fine. The FM radio is a nice feature and something the iPod has yet to offer, despite the pleas from fans. With its 32 station pre-sets, it'll serve those who want to catch with the news or get fed up of their playlists.
Photos display well on the luscious screen - more of which later - and can be added by simple dragging and dropping them onto the Zen's icon in Windows. Pics load quickly.
The Extras menu gives you date and time settings as well as Tasks, Organizer and Calendar functions. These have to be synced through Creative's software with Microsoft Outlook so we feel, unlike the iPod Touch - which has just been granted direct calendar editing with the 1.1.2 firmware update - these are not features the average consumer will take advantage of.
The Zen takes SD cards and the new high-capacity SDHC boys, so buy a 4GB player, stick a 32GB SDHC card in - bank balance permitting - and you've got a really respectable media capacity on a teeny-tiny player. It's quick too: just stick the card in, select the Memory Card option and browse away.