Creative Zen media player
Spiritual enlightenment by way of sound
The downside is that the memory card's contents can't be accessed from the main Music, Video and Photo options. We don't see this as a major drawback for those folk planning to use the expandability in a hot swappable-fashion, for digi-cam pics or playlists that take your fancy, but if you're hoping to use SD cards as a way to permanently expand the player's capacity, it'll be annoying.
The Zen's video playback is great if you can get past the small screen size. We were really pleasantly surprised at how good vids look displayed in the maximum 320 x 240 resolution. Yes, there's slight blurring/jagging with fast movement, but the colours are brilliant, everything is beautifully crisp and it really is just as good as the alternatives out there.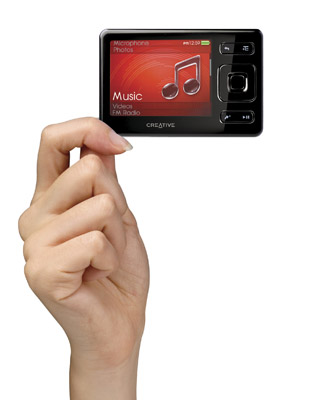 Don't leave home without it
The screen itself is quite simply lovely: bright, crisp and clear. The viewing angles are good too. Although it's clearly suited for a single viewer, you don't have too precise about how you angle the player to get the best picture.
When it comes to music, the sound is fantastic. The Zen delivers audio quality of 97dB SNR, but actually getting around to listen to it - although the player's interface is super-easy to work out - is a laborious process.
From the ZEN's main menu screen you have to select Music. You then get Playlists, Albums, Artists and Genres options - all the while the album art scrolls through a slideshow in the background, which is quite pretty. Let's say you then press to select Artist. This brings up your list of warblers. Once you've selected one, you get album options, which you also have to press to select. Then you're presented with a song list, at which point you can either press the Play button or select a track and select Play. When the track stops, you have to go back and repeat the process.