This article is more than 1 year old
SanDisk pitches Flash cache tech at PC makers
Vaulter to leap past Intel's 'Robson'?
SanDisk is to take on Intel's 'Robson' technology - aka Turbo Memory - by launching next year a PCI Express add-in Flash cache.
Dubbed SanDisk Vaulter Disk, the module will be offered to manufacturers of desktop and notebook PCs in capacities of 8-16GB. That's rather more than Intel's comparable Turbo Memory modules provide: 512MB and 1GB.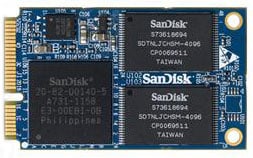 SanDisk's Vaulter Disk...
Both products are pitched as system accelerators and power conservers. Data coming off the hard drive is cached in Flash from where it can be read in future more quickly than off the disk. Since the memory is non-volatile, it's good for start-up code, and it can also be used as the location for virtual memory data - again, to speed read access.
However it's used, the Flash cache means the hard drive spins less frequently, conserving power.
Those are the selling points, at any rate, though real-world tests conducted by various websites since Intel launched Turbo Memory have generally shown less of a gain than the chip giant forecast.
And similar technology integrated into hard drives hasn't exactly set the world alight, as Seagate admitted recently. So did Hitachi.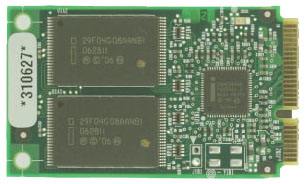 ...and Intel's Turbo Memory
Vaulter Disk may do better, since it's capacities are big enough to store appreciable amounts of data, in particular operating system codem, which SanDisk indicated would be cached in preference to user data and files that are written to frequently.
Write-cycle limits remain an issue with Flash caches - each cell can only be written a certain number of times before it becomes fixed. Modern Flash chips get around this by intelligently storing data to maximise their lifespan, and arguably most of today's Flash-based products will operate efficiently for a period rather longer than the typical device upgrade cycle.
In short, you'll have almost certainly bought a new PC before your current machine's Flash cache wears out.