This article is more than 1 year old
AMD rolls out DirectX 10.1 Radeon HD 3800 GPUs
Top-of-the-range peformance at mid-range price
AMD has launched 'RV670', the - world's first - 55nm GPU it hopes will reverse the growing gap between its sales and those of Nvidia.
RV670 will go on sale today as the ATI Radeon HD 3850 and 3870 - effectively what would once have been called 'Pro' and 'XT' variants, respectively. Both 192 square mm dies contain 666 - oh err - million transistors in a , many of which go to form the chips' 320 Stream processors. The 3850 is clocked at 670MHz, while the 3870 will run at 775MHz or more - there's room for card suppliers to up the rate, AMD said.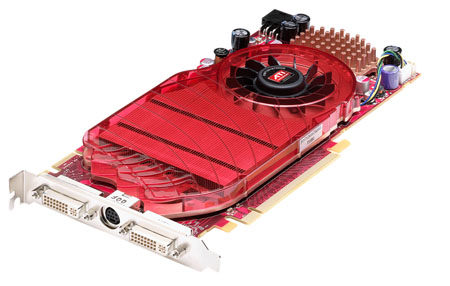 AMD's HD 3850: single slot
The 3850 will appear on PCI Express 2.0 boards equipped with up to 256MB of GDDR 3 memory clocked at 900MHz. The 3870 supports 512MB of GDDR 4 running at 1.2GHz. The latter's higher core and memory clock frequencies mean it's a two-slot product with a peak power consumption of around 106W.
The 98W-peak 3850-based boards - also PCIe 2.0 - can get away with a fan slim enough for the card to take up a single slot's worth of motherboard space.
Reference cards for both chips come with a DIN-style HDTV output port and two dual-link DVI ports. The GPUs support HDCP copy-protection, allowing them to feed HDMI displays via a DVI-to-HDMI adaptor that also pulls 5.1-channel audio through the HDTV port.
Once again, the GPUs contain AMD's UVD video processing core, the same basic tech that was introduced with the Radeon HD 2600 but here optimised for the new chips' PCIe 2.0 bus speeds.
Both GPUs integrate AMD's PowerPlay technology to reduce overall power consumption and fan noise. Batches of Stream processors can be powered down and the core clock speed throttled according to demand, segmented into three modes: general use, light gaming and intensive gaming. The latter has the cards going flat out, but the first two modes cut the power consumption down to around 34W and 51W for the 3780, and 26W and 39W for the 3850, AMD claimed.
With the RV670 essentially a die-shrink of the old Radeon HD 2900 core, AMD anticipates getting more of the new chips out the door from each wafer. As such, it expects them to appear on boards in the $150-200 price band despite offering higher performance than AMD's current top-of-the-line GPUs.