Asus has claimed it has "no plans at the moment" to produce a version of its Eee PC ultra-small laptop with a 10in display. The upcoming 8GB model will sport the same 7in screen as the currently available 4GB unit, it added.
Rumours that the manufacturer has a 10in Eee PC in the works have been doing the rounds since the machine was announced back in June. Back then, Asus showed a compact 10in Eee PC, the 1001, at the Computex show in Taipai this year. You can see pics of it at Akihabara News here - but it's clearly a different, larger design to the current Eee PC 701 rather one of today's machines with a 10in LCD in place of the 7in panel.
More recently, German website Der Standard posted an ambiguous quote from a local Asus spokesman that some observers have leapt on as proof that a 10in, 8GB Eee PC is imminent. The trouble is, the statement that the 8GB version will have a "larger display" wasn't made by the spokesman but by the site.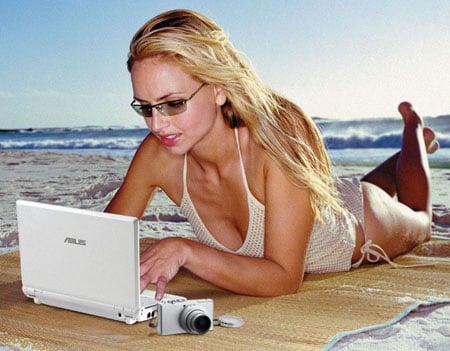 Asus' Eee PC and friend: not waiting for the ten-incher
Yesterday, website Eeeuser.com contacted Asus and asked it outright. The response: "We will have [Eee PC] 8G with the same form factor and 7in screen size as the Eee PC 4G now.
"There are no plans for a 10in at the moment."
We've no doubt that if the Eee PC is as successful as Asus hopes it will be a 10in model will be added to the line-up some time in the future. Our sources suggest such a machine is in the pipeline, but don't expect it in the near future.
Related review
• Asus Eee PC 4G