SC07 Canuck pride carried Team Canada to victory in the first ever Cluster Challenge event here at Supercomputing.
Six university teams gathered at the Supercomputing conference to take part in the Cluster Challenge. The rules of the contest stated that only undergraduates could build the clusters. In addition, the teams only had 26 amps to play with, forcing them to concentrate on keeping power consumption low.
Brent Gorda, an engineer at Lawrence Livermore National Lab, helped put the challenge together and set these limits with a couple of goals in mind. First off, the organizers wanted to show that clusters have become very accessible. Machines that would have counted as top-of-the-line supercomputers years ago can now be built by undergraduates. Hopefully, more students, engineers and businesses will take a crack at building their own systems now that they've seen what can be done.
Obviously, there was an emphasis placed on power consumption as well. Going green has become all the rage in the computing industry, and youngsters ought to start thinking about how to deal with these power limitations.
The teams - University of Colorado (Aspen Systems), Indiana University (Apple), University of Alberta (SGI), Purdue University (HP), National Tsing Hua University (Taiwan) (ASUS), and Stony Brook University (Dell) - came up with somewhat similar designs. For example, five of the teams crafted boxes with Xeon chips and five ran versions of the Linux operating system. Purdue bucked the chip trend by picking Opterons, while Indiana ran Apple's OS X. All of the teams used InfiniBand as an interconnect except Indiana which did Myrinet 10G over 10GigE.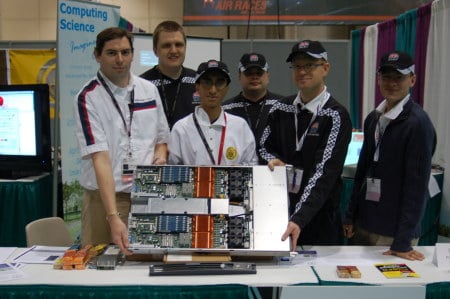 Our heroes
The number of cores ranged from 100 with Stonybrook's box to 36 on the Apple system.
And now we find that Alberta's 64-core (Xeon 2.66GHz) system with 20Gbit InfiniBand and 16GB of memory running Scientific Linux is the best box. In this type of event, however, everyone is a winner. (Yes, let's all share a collective hug.)
The teams have enjoyed their own display space here at the Supercomputing show where their systems have cranked away on high performance computing workloads for days. The computers had to handle Linpack - the benchmark used to rank the world's top supercomputers - along with tests for memory bandwidth, latency and message flow.
(A power outage at the show temporarily wrecked some of the benchmark testing. You can read about the episode in the comments section of the linked story where an Alberta team member gives a first person account.)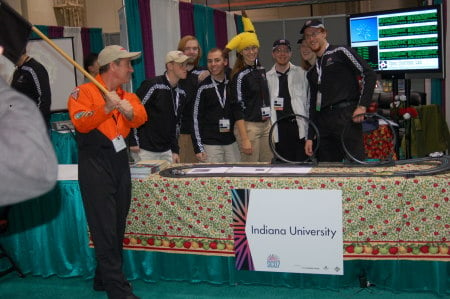 More crazy kids
Along with the benchmarks, the teams were graded with some beauty pageant metrics. For example, they had to discuss their hardware and software in an eloquent fashion when probed by judges.
We've been impressed by the enthusiasm demonstrated by the students. These are bright kids who really seem to enjoy what they're doing.
Can an Average Joe build a cluster just like the kiddos?
Well, no. These guys really know their sockets from their GPGPUs.
The race, however, has shown that a bit of effort and brains can result in a very, very fine cluster. Which is nice.
And we're particularly pleased to see Reg readers take the top prize. You see, kids, biting the hand that feeds IT pays. Or something like that. ®