Sun is dishing out new ACTA blade server gear for telcos sporting 10 Gigabit Ethernet — with all the copious prices usually found for equipment holding the AdvancedTCA telecom industry standards.
The new portfolio, now standardized on Sun's Solaris operating system, will let telcos connect multi-core and multithreaded ATCA equipment directly into 10Gb/s networks.
The new Netra package includes the Sun Netra CP3260 ATCA blade that uses a single socket, 64-thread UltraSPARC T2 processor at 1.2GHz. It sells with either six or eight cores activated. The CP3260 has 8GB to 32GB of FD-DIMM main memory and redundant 64MB flash memory. The blade also has the option of 8GB or 16GB CompactFlash memory for those who lack faith in disks. Pricing starts around $11,500.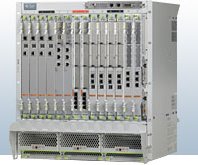 The Netra CT900.
The CP3220 blade is an AMD version of the CP3260, powered by a dual-core 2.4GHz Opteron 1000 chip. Sun says the blade will be upgradable to the quad-core "Barcelona" processors when AMD starts delivering the single-socket version to market. This one will start at about $6,500.
Holding the blades in place is the Netra CT900 chassis. The server lets customers mix and match up to 12 of the UltraSPARC and AMD Opteron blades running Solaris, Windows, or carrier-grade Linux, in the same enclosure. The CT900 is a 12U rack-mounted chassis with a 10Gb/s Ethernet backpane. The box is NEBS Level 3 certified and has dual redundant and hot-swappable Gigabit Ethernet switches, shelf managers, power and fan modules. The Netra CT900 ATCA blade server starts at about $33,000.
Specs on all the gear are available at Sun's Netra ATCA website. ®
Similar topics