Build quality is what we have come to expect from Nokia on its better days. The plastic body feels solid and robust, while the angular styling has been thoughtfully carried over onto pretty much every surface just in case you put it face down in your favourite wine bar. In use, both the keys and the joystick have a positive feel to them, though the joystick is a just little on the short-and-stiff side. It's a wee bit too easy to push it in - to make a selection - rather than in the direction you want the cursor to go.
The 7500's basic specification is nothing to complain about: tri-band GSM, GPRS and Edge; 30MB of internal memory; a Micro SD expansion slot good for up to 2GB - a 512MB card is included in the package; a two-megapixel camera with an LED flash; A2DP wireless stereo over Bluetooth; a media player that can handle MP3/AAC/eAAC+/WMA audio along with MPEG 4 and WMV video; an FM radio; voice memo recorder; calender; calculator; four games; five free music tracks; a universal converter that even does shoe sizes; and a world clock.
Phew.
The phone also has a mini USB port for PC hook-up, and comes with the usual Nokia software suite.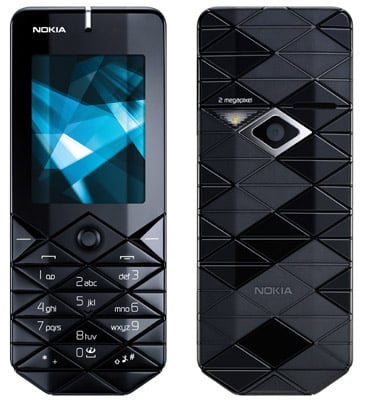 A none-too-shabby specification
Thankfully, the email client on the 7500 is a fully fledged standalone app and not the nasty little Java application you get on some lesser Nokia phones, such as the 6300. It also comes pre-loaded with the Opera Mini browser so you're not stuck with the built-in WAP browser.
The various equalisers in the rather fine XpressMusic audio player also deserve a mention in dispatches. They look great and actually work, while the supplied 2.5mm-jack stereo headset is not too shabby in either the sound or comfort stakes.
As for the camera, with a resolution of 1600 x 1200, an 8x digital zoom and 176 x 144 (QCIF - the 'F' stands for 'feeble') video it does pretty much what you'd expect but no more. The LED flash is next to useless, while the time taken to process each shot is on the long side.
The user interface is the by now familiar fifth edition of Nokia's Series 40 (S40) UI and there is nothing wrong with that, especially as it allows for a fairly high degree of user configuration, a vital feature for the modern 'phone as fashion accessory'. A nice touch is the option to put a 'note' on the main standby screen.
Similar topics