The handset itself is available in black, red and white and comes with three clip on colour "accents" that look just fine and more importantly stay securely in place when clipped on under the battery cover.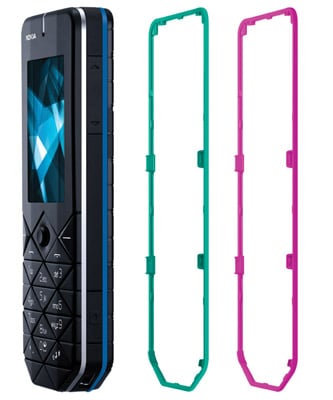 Choose your 'accent'
The handset's other impacts on the physical world are encompassed by a size of 109 x 44 x 14mm and a weight of 83g.
Battery life is not the phone's strong suite. Maybe the battery is just plain weak and pasty, but we found that a full charge was good for about a day of heavy mixed use. Make less of a demand on it and you could probably eke that out to 48 hours. For a mid-level non-3G handset this is borderline adequate.
Nokia claims 2.8 hours' talk time, 280 hours on stand-by and nine hours of music playback. We reckon the latter is possible, but only if you don't actually use the 7500 as a phone during that time. You also need to remove the battery to change the Micro SD card, which is something of a backwards step in phone design.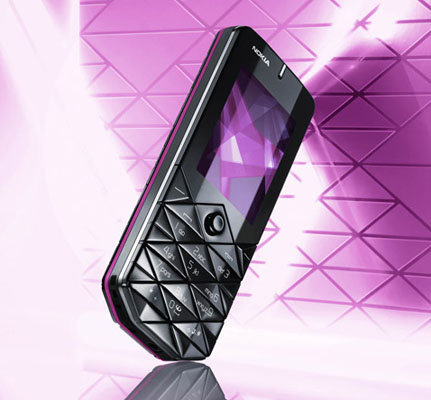 Pretty in pink
As soon as review samples of Nokia's '7500 on steroids', the 7900, complete with trick OLED screen and 3G, pitch up we will let you know if the Toblerone phone is a flash in the pan or the shape of more triangular things to come.
Verdict
With its angular keypad, dozen trippy screen themes and 'blimey, what's that?' appearance, Nokia's 7500 Prism is a phone you are going to buy because of its looks rather than because of what it does. Just as well then that when you get it out of the box you'll discover you have a perfectly reasonable middle-of-the-road handset in your possession.

Nokia 7500 Prism mobile phone
A triumph of form over function? Yes, but anything that's been that close to Heidi Range must be worth a look...
Price:
From free on contract or £160 unlocked from Nokia RRP
Similar topics