This article is more than 1 year old
Museum archive turns up new dinosaur family
A hidden treasure in piles of dusty old bones
A PhD student has uncovered a new family of dinosaur, not in a cliff face, or in a desert, but tucked away in a dusty archive in the Natural History Museum in London since 1890.
Mike Taylor said that the specimen leapt out at him as being totally unfamiliar. "I've spent the last five years doing nothing but looking at sauropod vertebrae and I immediately realised it was something strange. It was unmistakably a dorsal vertebra [part of the backbone] from a sauropod, but it didn't look like any dorsal I'd ever seen before," he said.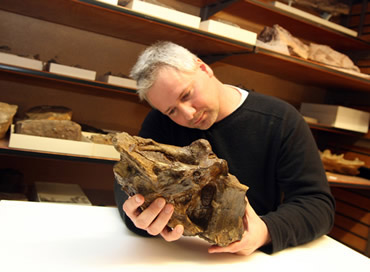 PhD student Mike Taylor and his fossil friend. Credit: NHM
The species has been named Xenoposeidon proneneukus, which translates roughly as "alien sauropod". We were hoping they might have gone with something like Historicus subterraneus, but never mind...
Museum archives are likely stuffed with exciting "new" discoveries, Taylor says. "The Natural History Museum collection is so huge that it's impossible for anyone to know everything that's in there. It's full of ancient treasures waiting to be rediscovered by scientists."
The mid to late 19th century was boom time for fossil hunters, largely because of an extraordinarily competitive pair of palaeontologists, Edward Drinker Cope and Othniel Charles Marsh, working in the late 19th century. The period is even known as The Bone Wars (paging all currently unemployed Hollywood writers...), because of the increasingly unpleasant rivalry between the two men.
In their struggle to find the most fossils, the most important fossils and the next new species, the two men amassed a huge collection of bones, many of which have not been properly analysed. Many fossils from this period were subject to scant analysis, including the specimen rediscovered by Taylor.
It was originally unearthed in Sussex by fossil collector Philip James Rufford. English palaeontologist Richard Lydekker gave it a once-over, but put it aside. It has been locked away, untouched, for the last 113 years.
"The big advantage we had over Lydekker was 113 years of research, during which time 100 sauropods had been named, many of them from excellent remains," Taylor says.
"There were lots of animals we could compare our specimen with, and lots of useful papers describing and discussing them. It was quickly apparent that my first instinct had been right - this bone had belonged to a previously unknown species."
The period is most famous for the confusion that gave us the now-rebranded Brontosaurus. [Reckon an online petition will get us that name back? - Ed] The new species is also a sauropod, similar to the Apatosaurs (Brontosaurus) and the Diplodocus. ®