This article is more than 1 year old
Asus Eee PC 4G sub-sub-notebook
The ultimate laptop?
2007's Top Products Asus' diminutive Eee PC 4G 701 micro-laptop is here. It's garnered an amazing welcome from computer users looking not for the acme of performance but for a highly portable wireless notebook with a decent battery life. Will they be disappointed?
First, for anyone's who's missed the Eee PC hoopla, Asus' little laptop is like a standard 13.3in notebook that's been shrunk to two-thirds of its usual size. It's not the first of its kind – Sony's been offering a variety of these tiny machines for years, Toshiba once made headlines with its oh-so-small Libretto and we're old enough to remember Olivetti's much missed Quaderno.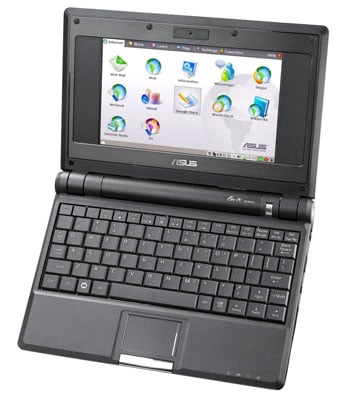 Asus' Eee PC 701: smart, stylish and very portable
What the Eee PC brings to the sub-sub-notebook category are a few modern refinements: Linux, Wi-Fi and solid-state storage. Our review unit has 4GB of Flash, of which around 2.9GB was consumed by the OS, bundled apps and sample files leaving just over a gigabyte for new stuff.
The machine starts straight into Asus' own front-end: a set of icons grouped into categories, each category on a different tabbed pane. The bundled software is comprehensive, and includes Skype; Firefox; Thunderbird; KDE Mail, used for PIM data rather than email; OpenOffice; Acrobat Reader; the Pidgin multi-network instant messaging app; photo, music and video managers; a media player; and an array of utilities, including a file browser.
Not that you should need one. Asus' GUI is clearly intended to be the be-all and end-all of your Eee PC experience. The above-mentioned apps are presented as generic icons – eg. Web rather than Firefox – and are mixed with others that simply trigger links to specific websites, such as Wikipedia and Google Docs. The Internet Radio icon takes you to MediaU.net, for instance.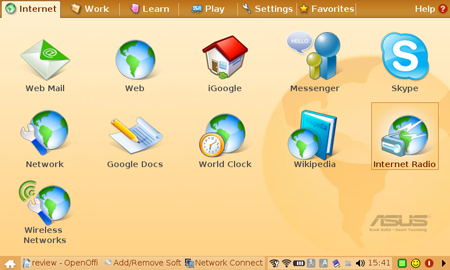 All-in-one inclusive GUI for novices
The Eee PC may run Linux for cost reasons – it's cheaper to install than Windows – but that doesn't mean this machine's aimed at fans of the open-source OS. Indeed, File Manager hides away almost all of the OS' internal workings – though it's not hard to find them if you know what you're about.