This article is more than 1 year old
Asus Eee PC 4G sub-sub-notebook
The ultimate laptop?
Another advantage to using Linux is that it's easier to make the OS fit the screen. The 701's very nice 7in, 100dpi, LED-backlit, 800 x 480 screen isn't a standard resolution, but there are pixels aplenty to ensure dialogue boxes don't disappear off the bottom of the screen as they almost always did with early Windows-based UMPCs. Any that do can usually be resized to fit the screen with just a click. Windows, rather than dialogue boxes, open full-screen by default, but it's easy to switch between them using the tabs in the status bar at the bottom of the screen.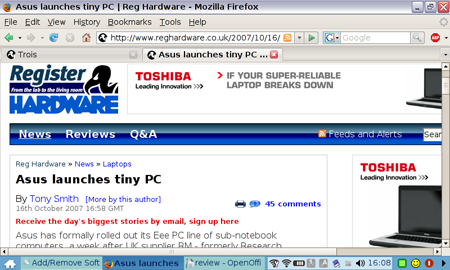 No cut-down 'mobile' browser here
That said, run too many apps and the tabs rapidly run together into a mess because there are no separators between them. Ultimately, you end up with a line of icons. If you want some extra screen space, you can temporarily dismiss – and restore – the taskbar by clicking on the triangle at its far right end.
In one respect, the Eee PC's screen is a step backward: it's much smaller than the laptop's lid, like notebook screens used to be back in the early 1990s. Asus has wisely used the space either side of the screen for the 701's speakers – rather tinny ones it has to be said; use the earphone socket instead – and there's a 0.3-megapixel (640 x 480) webcam above it.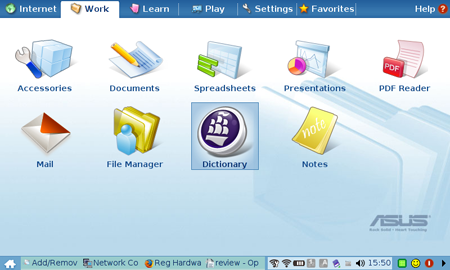 GUI customisation limited to changing the colour
The laptop's lid feels rigid to withstand many of the knocks and bumps that inevitably occur during a life on the road. The hinges run smoothly but with more friction than you usually find with notebooks – again, a sign of solidity. Not so the keyboard, which presented us with slightly misaligned keys that have the rattly, lightweight feel of low-end laptop keyboards circa 2000.
Typing on the 701 is certainly possible, but if your fingers aren't those of a five-year-old, it'll take a wee bit of practice to make sure you hit just the letter you want and not an adjacent key too. But all the keys you'd get on a full-sized model are here present.