This article is more than 1 year old
Asus Eee PC 4G sub-sub-notebook
The ultimate laptop?
In addition to the Ethernet port, the 701 has 802.11b/g Wi-Fi, and its Xandros Linux distribution includes a suitable taskbar icon to help you select an access point or hotspot and get connected. There's a separate icon for all your established network connections. Two network tools is just plain confusing, especially since the former doesn't actually tell you if you're connected or not. Asus and Xandros, combine these, please.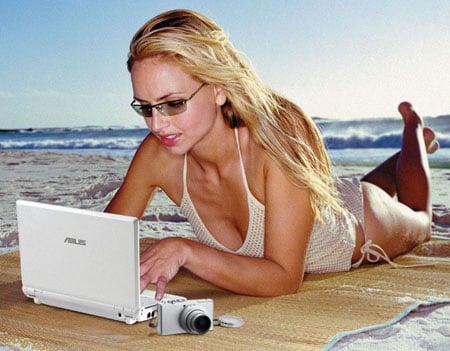 The Hardware Widow gets down to some full-on Linux hackery on the beach...
Irritatingly, while the power icon will tell you how much juice you have left when you're running on batteries, when you're running off the mains, it won't tell you how long you have to wait until the battery's fully charged.
Asus claims the battery yields 3.5 hours' uptime. We got a bit more than that - and that's while using the thing almost continually. Still, it's not a machine you can work on for the best part of a day without reaching for the AC adaptor, which is a severe limitation.
This is our only real disappointment with the Eee PC. A machine with such a basic spec and with such a focus on portability - that's why it's the size it is, for heaven's sake - really ought to give much more runtime than a regular laptop. You get better browsing life out of an iphone.
The culprit's almost certainly Linux. We put the Eee PC to sleep overnight when it s battery registered 50 per cent full. The following morning the battery was fully drained. This has never happened with any modern Mac or Windows laptop we've tried.
Worse, there's no way of controlling the Eee PC's power usage. When the battery charge falls to ten per cent, you're given three minutes before the 701 shuts down. Folk familiar with Linux's many settings files may be able to override this, but many an Eee PC user won't, in which case they can't get the full duration out of the battery.
Customisation is equally limited - to changing the Asus GUI's colour scheme from one of four pre-sets. The GUI's Settings tab also included a Windows-esque Add/Remove Software utility, which will find online updates for installed apps and let you uninstall some, but by no means all of them.
Asus offers an optional external USB optical drive, but as we said, the company doesn't anticipate the 701's target audience installing new apps. Think of the Eee PC as a complete, sealed unit that's ready to do all you need it to out of the box, and you've a good idea what this machine is about. It's not a PC, it's an appliance.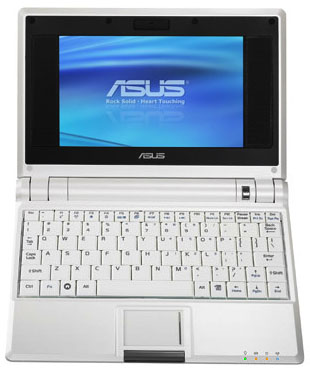 The big bevel's more obvious with the white Eee
That's an appropriate description given the 701's 900MHz Celeron M 353 ULV (ultra-low voltage) processor and 910GML chipset, both well behind the leading edge. Performance, then, isn't anything to shout about, but it's adequate for the tasks Asus has designed it for – as shown by what apps it's chosen to bundle.
Loading apps off the Flash drive is quick, but not perhaps as fast as you might expect given the hype surrounding solid-state drives. It starts up in a mere 15s or thereabouts. But then this isn't a machine you'll want to be powering on and off. Just put it to sleep, and it'll be ready next time much more quickly. Battery -drain permitting, of course...
Verdict
At just £220, Asus Eee PC is a steal. The bundled GUI keeps things simple for novices, though we reckon most such users will prefer the familiarity of Windows, and we expect this machine to really take off when Asus offers a version with XP pre-installed.
But that's not to detract from the Linux Eee PC and its all-in-one information processing package. Linux buffs and geeks will love its sheer hackability. For two hundred quid, it's a perfect impulse buy for folk who love messing around with operating systems.
This is a fun, cheap machine - which is just as well when the battery life means it'll never be a mobility masterpiece.

Asus Eee PC 4G sub-sub-notebook
Cheaper than an iPhone, less gorgeous but a darn sight more useful. But it's a shame about the battery life...