This article is more than 1 year old
Remembering the IBM PC
C:\> cd \memories\ibm\1981
This Old Box It's time again to rewind that fleshy cassette storage device in your head to yesteryear.

This week, we're headed back to August 12, 1981 — the date IBM introduced its Personal Computer, a system that would shape the industry and make the term "PC" synonymous with home computers.
But let's not get ahead of ourselves. We enter the stage of history when PCs are still called "microcomputers," and nobody is quite sure how much profit there is to be made selling the damn things.
IBM Personal Computer (IBM 5150)
Released: 1981
Price: $1,656
OS: MS-DOS, USCD Pascal, CP/M-86
Processor: 4.77MHz Intel 8088
Memory: 65KB (first shipped with 16KB)
Display: 320x200
Storage: One or two 160KB 5.25" disk drives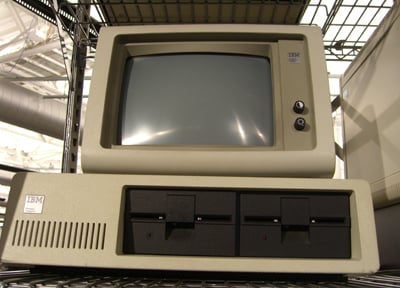 In the early '80s, IBM had built a stellar reputation for itself selling mainframe computers to big businesses. But the back rooms of conglomerates weren't enough for Big Blue — or as it was known back then, Medium-Sized Teal (no, not really).
Despite their previous failure to sell an affordable microcomputer with the IBM 5100, the company decided to try again after seeing the success of the Commodore PET, Apple II, Tandy's TRS-80s and the Atari 8-bit computers.
IBM assembled a 12-person team with the goal of bringing a product to market as quickly as possible, dubbed "Project Chess." At first, they considered buying Atari to assimilate its fledgling line of computers. But IBM instead decided to pursue its own offering — while saving money and time by building the machine with parts bought from a variety of OEMs. The company had previously developed its own components in-house.
IBM also decided to create an open architecture for the system (now known internally as project "Acorn"). Other manufacturers would be allowed to build and sell peripherals and software, thus creating the "IBM-compatible" legacy of PC equipment.
Project Chess was juggling between using the 16-bit Intel 8086 processor, Motorola MC68000 and the Intel 8088. The latter was eventually chosen because the others were determined to be too powerful.
For the operating system, IBM first went to Digital Research, the creators of CP/M. Digital Research, however, showed little interest in the project. IBM then turned to a small company called Microsoft, which had built some fame for itself as the creator of a BASIC interpreter for the Altair 8800.
Bill Gates accepted IBM's offer, but Microsoft wasn't up to the challenge of writing an operating system itself. Microsoft instead bought the rights to QDOS (the "Quick and Dirty Operating System") for $50,000, written by Tim Paterson of Seattle Computer Products. QDOS itself was based heavily on the CP/M operating system. Paterson had bought a CP/M manual and used it as a basis to write QDOS in six weeks — with just enough changes to fly on the upside of legal.
Gates managed to convince IBM to let Microsoft retain the rights to the operating system, all the while keeping the Seattle Computer Products purchase secret from IBM. Microsoft would later go on to do very well indeed with licensing MS-DOS, thank you very much.
(There's more on the OS history bit here.)
The original IBM Personal Computer came with a version of Microsoft BASIC in ROM. The system was offered with either a CGA or MDA graphic card. The CGA graphics card could plug into a standard television, while the MDA plugged into a monochrome display.
Standard cassette tapes were used to load and store programs. A floppy disk drive was offered as an optional extra.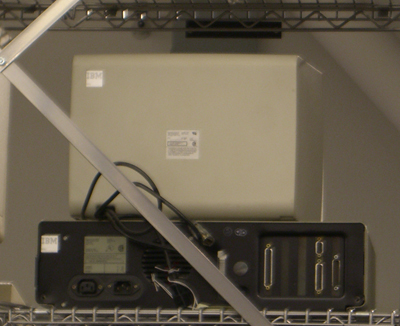 The IBM PC was still very expensive for the average home user, but found plenty success with businesses. In 1983, an IBM PC XT was launched with the business market in mind, offering more expansion slots and a 10 megabyte hard disk.
IBM's machine would become a standard for the industry, and Big Blue was able to own the personal computer market until the end of the '80s.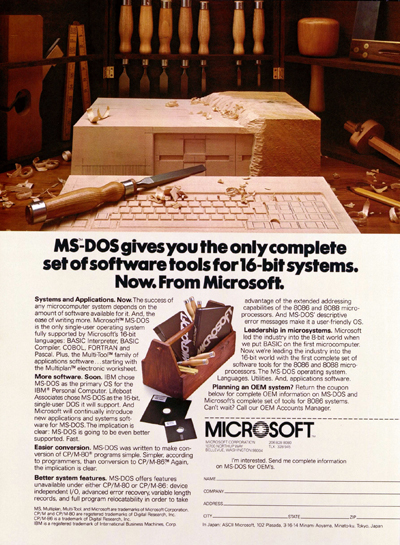 Click to enlarge
Thanks again to the Computer History Museum in Mountain View, CA for letting us ogle your hardware.
To our dear readers, begin reminiscing if it strikes you. ®