UK network operator O2 has announced that its latest XDA smartphone will be available next month - even though the company is unable to decide on the handset's name.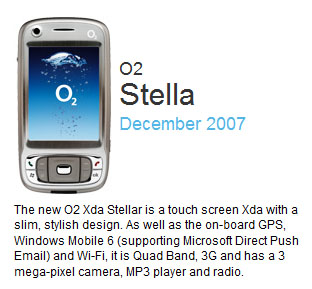 O2: is it 'Stellar' or is it 'Stella'
The 3G handset, which appears to be based on HTC's TyTN II design - reviewed here - is referred to as both the Stella and Stellar on its website.
However, the device runs on Windows Mobile 6 and has a 2.8in touchscreen. It's also a quad-band GSM and 3G phone, with Wi-Fi connectivity and GPS navigation.
A three-megapixel camera and FM radio are built-in too. O2 hasn't said much else about the handset's features, but if it's truly based on the TyTN II handset then it'll incorporate Bluetooth 2.0 and a Micro SD card slot.
O2 hasn't given a price for the Stella handset yet either. But, it's worth noting that a very similar looking rebranded HTC TyTN II is already available on T-Mobile as the MDA Vario III.