Samsung SGH-F210 mobile phone
Just too small
Review Phone or MP3 player? That, as the Immortal Bard would say, is the question. Looking at it lying on the table like a tiny toppled megalith, albeit a highly polished one, it's difficult to imagine a more MP3-player-esque looking phone. The question is, has this desire to combine styles led to any compromises that delight us.
As with last year's X830, the F210's eigenschaft is the move from closed MP3 player to open phone, a transition accomplished, one handed, by nudging the upper third of the block to the left with your thumb and letting it spring around through 180° to reveal a narrow-but-perfectly-formed keyboard while the screen morphs from landscape to portrait.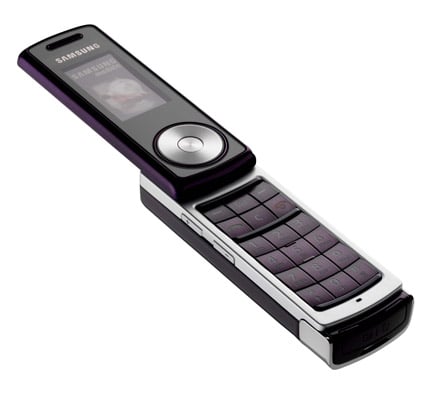 Samsung's F210: flick nice
The 128 x 220, 256,000-colour TFT screen is bright and clear, but at 19 x 32mm, the display is frankly a little bit too small for a phone. Sure, everything is legible, but too many menu titles and the like have to scroll across the screen to be read in their entirety.
Had Samsung managed to make the screen just a touch larger, or at least given the swivel a soft stop at 90° so the phone could be used with the screen in landscape then life with the F210 as a phone would be less of a compromise.
By contrast, when the screen is in landscape music-player mode everything looks just fine and dandy, and though looking at videos and pictures is a bit of a strain, the image quality itself is fine.
A nice display feature is the option of having two time zone clocks on the main standby screen, handy for regular travellers, though we'd also say a trick has been missed by omitting an option to have that same information showing when the handset is closed. As it is, you have to open the phone to check the time.