SC07 Sun's hardware chief John "I don't comment on unannounced products" Fowler has storage on the brain.
The longtime Sun exec recently took over the company's storage business, adding tape and disk to his responsibilities as server chief. Fowler, during an interview here at Supercomputing, confessed to having an unfulfilled passion for storage gear - one that he can now satisfy in tandem with Sun co-founder Andy Bechtolsheim, who we're told is also consumed by the byte saving bug.
It will take more than enthusiasm to turn Sun into a compelling storage vendor. A number of executives have tried and failed to raise the status of Sun's storage gear over the past few years. It seems that customers simply prefer to look elsewhere when buying disk to connect to Sun's SPARC and x86 servers. Much of the lack of enthusiasm for Sun's storage kit has stemmed from its reliance on partners rather than in-house hardware and software for a large swath of its lineup.
Now, however, Sun has started releasing a number of homegrown products that it sees as game changers.
The most recent in-house arrival is the StorageTek 5800 box, which barrels into the Content Addressable Storage (CAS) market.
"This box is about really long-term preservation of information," Fowler said. "Regardless of disk failures, we can maintain data integrity for a very long period."
Sun has spent years talking about this system under the "Honeycomb" code-name. The system took so long to design and ship due to a drawn out prototyping process and extensive testing, according to Fowler.
Now Sun has a unit which relies on metadata and a slick query engine to store and sort fixed files such as medical images or chunky media content. Over the coming months, Sun will open source the software behind the CAS box.
"Some people will want different IOPS (input/output operations per second) to disk ratios," Fowler said. "As an open source project, people will be able to adapt the software to different kinds of hardware to meet these varying needs."
The Honeycomb box joins the X4500 as two of Sun's bespoke points of pride in the storage game.
Both systems fit into Sun's new high performance computing package - Constellation - which includes the Bechtolsheim-designed DataCenter Switch 3456 and the new Sun Blade 6048 chassis. (The Sun Blade 6048 lets customers put up to 48 SPARC, Xeon or Opteron blades in a full rack.)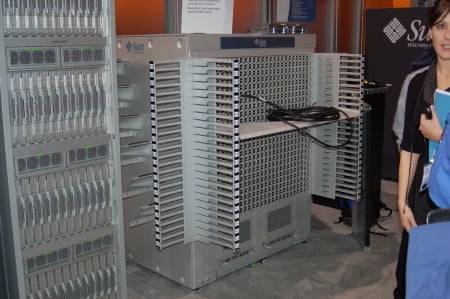 The Big (3456) Freakin Web Tone Switch
Thankfully, Sun realizes that not everyone is looking for a 3,456 port InfiniBand switch. So, it has prepped a 72-port InfiniBand switch that will sit on top of the Sun Blade 6048 rack.
"This will let us do small to very large clusters with similar storage, compute and fabric components," Fowler said.
Sun demoed the new 72-port switch at Supercomputing and plans to start selling it in the coming months.
Similar topics
Narrower topics