This article is more than 1 year old
Nintendo takes shine to golden DS Lite
Metallic pink version too
Nintendo has unveiled a pair of DS Lite bundle packs, just in time for the Christmas rush.
No doubt Nintendo's aiming each bundle pack at some specific gamer groups, given the choice of either a golden handheld or a more feminine metallic pink version.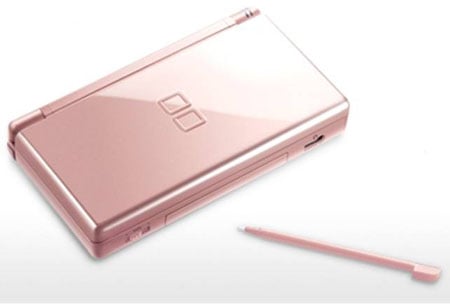 The pink one?
The gold-coloured console comes with a copy of The Legend of Zelda: Phantom Hourglass, while anyone preferring a metallic pink console will get a copy of the virtual-mutt training game, Nintendogs.
Release of the bundle packs should, apart from increase the console's Christmas sales volume, also help attract the attention of both male and female hardcore DS Lite gamers, who see the either bundle as a collectable or special edition model.
So far, Nintendo's only announced that both bundles will be available in the US. They'll arrive on 23 November for around $160 (£80/€110). A UK release date hasn't yet been confirmed.