This article is more than 1 year old
Nokia 6110 Navigator GPS phone
Gets you from A to B without going via L, O, S or T
Review Nokia has decided satellite navigation is where it's at. The Finnish phone giant released its first GPS-enabled mobiles this year, and is promising a whole heap more for 2008. And its multi-billion dollar purchase of map supplier Navteq leaves no doubt how seriously Nokia is taking sat nav.
The pertinently-monikered 6110 Navigator isn't Nokia's first GPS-enabled phone, but it is the first to be explicitly designed for and sold on its sat nav capabilities. The N95 and E90 offer GPS as one of many other features, but with the 6110 you get a full-blown voice-guided sat nav system. It leaves behind the Nokia Maps over-the-air mapping solution of the N95 and E90, instead utilising Route 66 software.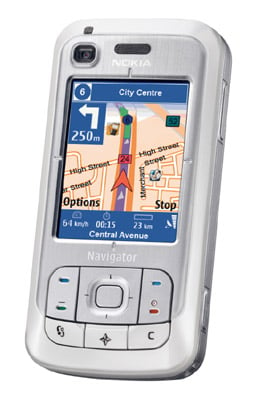 The Nokia 6110: sat nav special
The 6110 is a quad-band GSM/GPRS/Edge slider phone with HSDPA 3G, so it's capable of downloading, streaming and internet surfing at speeds of up to 3.6Mb/s. It's a smartphone too, based on the Symbian S60 Third Edition Feature Pack 1 platform, so it delivers a healthy spread of functionality along with the flexibility to add more software. There's no Wi-Fi on this device, however, which some might pine for.
There's a standard-issue two-megapixel camera in the back of the phone, with a sliding lens cover that protects and activates the camera. Video calling is part of the 3G deal, with a secondary camera poking above the display. This lovely, bright 2.2in, 320 x 240 display can show up to 16m colours, and provides plenty of detail for close-up map reading and website browsing. It's pretty fine for eyeballing video content and snaps on screen too.
Multimedia playback is taken care of with a multi-format music player and RealPlayer video player, plus an FM radio. A Micro SD card slot is on the side of the phone - Nokia supplies the 6110 with a 512MB storage card loaded with the Route 66 navigation software.
UK mobile users can enjoy maps and navigation software for the whole of the UK and Ireland. There's still plenty of room on the card for jamming in tunes, pics and videos, so you're not obliged to elbow the sat nav card when you want to indulge in some multimedia fun.