This article is more than 1 year old
Lost HMRC discs pop up on eBay
'Sensitive HM Government Information - DO NOT LOSE'
UK Identity Crisis Well, it had to happen, and so here you have it - those mislaid HMRC discs going for a song down at eBay: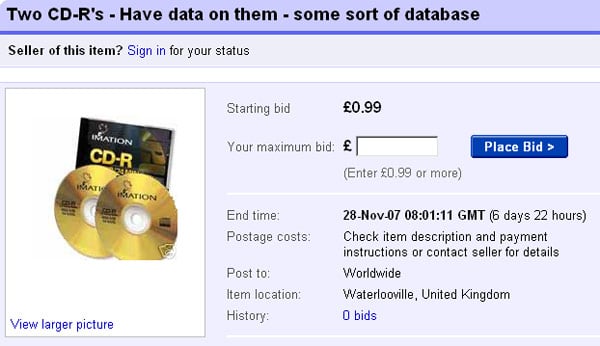 Since we have no doubt the powers that be down at the world's fave tat bazaar will move rather more quickly to remove this auction than they do to act on iffy vendors, here's the accompanying text:
Here we have two CD-R's for auction. They are not blank, but seem to have some sort of database written to them. I found them in my local courier firm's sorting office, addressed to

"Her Majesties Audit Office - Child Benefits Section" and marked

"Sensitive HM Government Information - DO NOT LOSE - ENSURE THESE DISKS DO NOT FALL INTO THE HANDS OF THE CRIMINAL FRATERNITY"

They were obviously surplus to requirements.

I haven't read the data myself. The database appears to have approximately 25 milion records in it, but is password protected, so it is impossible to read it and it's definitely impossible to extract any bank account data from it.

Any information that you might discover (should you be lucky enough to win the auction for these useful items and read the database thereon) must be kept in the strictest confidence.

0.99p start and no reserve, so grab yourself a bargain. All profit from these items will be donated to Sue Ryder Care.

Cash on collection ONLY please from Portsmouth PO8, since we wouldn't want these to get lost in the post!

PLEASE NOTE: Government departments should contact me by email before bidding, since they will have to be vetted for competence before entrusting such items to them.
Nicely done. And coming soon to eBay: One unemployed former Chancellor, will accept any reasonable cash offer, contact Gordo@no10.co.uk. ®