Sagem's feature-less bling mobile
All that glitters...
Some say you get what you pay for and, in the case of a Sagem handset, the statement rings true. Its gold-and-black MY220X handset costs about the same as an Indian takeaway, but still delivers plenty of bling.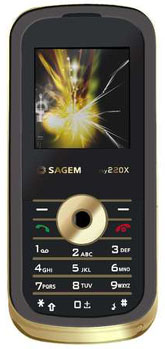 Sagem's MY220X: basic
The dual-band GSM handset has an LCD display that's capable of displaying 65,536 colours. Sagem claims the device provides around three hours of talk-time and 240 hours of standby life.
Additional features include pretty standard mobile phone features, such as a speaker phone, vibration alert and games.
However, what it lacks in functionality, it makes up for in design because the gold trim gives it a rather stylish look. Its 107 x 10 x 47mm dimensions also mean it should slip easily into your pocket, while the 65g weight won't stretch a carrier bag.
The Sagem MY220X is available now for around £15 (€22/$30) on pay as you go.