This article is more than 1 year old
PSP PlayStation Store launched on PC
Portable console action
Sony has re-launched its Playstation Store for the PSP, allowing gamers to download titles for the handheld console through a PC.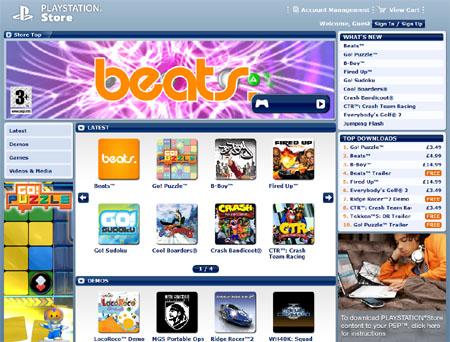 Sony's Playstation Store: PSP via your PC
The store, which is already accessible through the PS3, is now available in the UK and US, and is free to access. However, gamers must use a virtual wallet to download chargeable content, such as classic and recently released games.
Content is downloaded directly onto users' PCs and then transferred to the console via USB. While downloading games for the console does mean users won't have to carry around UMD discs, it also means they'll have to ensure they've got plenty of spare Memory Stick capacity.
So far, the store includes games like Fired Up and PS one games, such as Crash Bandicoot. It also holds free playable demos and trailers for Syphon Filter: Logan's Shadow and other titles.
Gamers can also download promotional videos and access themes for the console, including wallpapers.
Sony charges around £15 (€22/$30) for a new(ish) game and £3.50 (€5/$7) for PSOne titles.