Yes! It's the USB retro-style vacuum cleaner
Really sucks
If you usually eat lunch at your desk, you'll probably have crumbs everywhere. So, if the missus/cleaner doesn't quite live up to the job, then get de-crumbing yourself with a USB vacuum cleaner.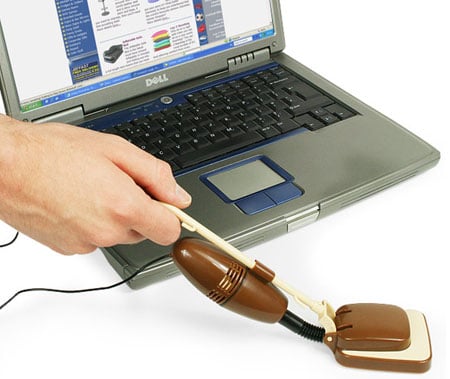 USB vacuum: get cleaning
The tiny desktop unit - it measure 200 x 60 x 95mm - looks like one of those retro Hoover vacuums, rather than a swanky, 21st Century Dyson floor-sucker, and is powered through a USB port.
Online retailer Drinkstuff says the vacuum does actually suck up the dust and crumbs - so presumably you should have to empty it every now and again too. There's no word on whether it's a bagless model or requires an endless supply of paper dust receptacles.
The USB Desk Vac is available now for a mere £8 (€12/$16) from Drinkstuff's website.