WolfKing howls about wacky gaming keyboard
Qwerty circled
Peripherals manufacturer WolfKing has created what it claims is the world's first hybrid PC gamepad and keyboard for gamers - and, we might add, poser typists - everywhere.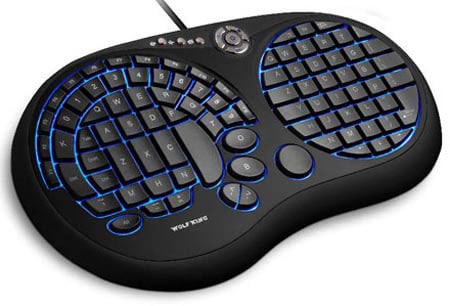 Wolfking's Warrior Xxtreme: in the round...
The Warrior Xxtreme [sic] builds on the company's earlier circular Warrior model, adding 40 additional keys in a modified Qwerty arrangement that looks, well, worlds apart from any standard keyboard. However, WolfKing insisted the shape of both keypads makes data-entry easier. Although, there's bound to be a period of typing retraining required.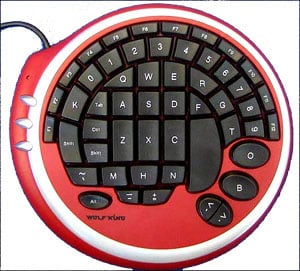 The original Warrior keyboard
A blue backlight's been added to each circular keypad that, WolfKing claimed, makes the keyboard ideal for use in low-level light - perfect for those through-the-night monster gaming sessions, in other words.
Each key has a silicon membrane covering that supposedly dampens the sounds of keystrokes. Two USB 1.1 ports for peripherals, such as mice or headphones, are also built in.
The Warrior Xxtreme works with PCs and Macs, and is available now in the US for $80 (£40/&euro60). A UK release date or price has yet to be announced.