This article is more than 1 year old
Free our data - open mapping comes of age
Google meets its match
The UK's Ordnance Survey (OS) creates some of the world's best maps. Going far beyond mapping just the roads, OS provides some of the most detailed mapping, good for walkers, cyclists, and runners.
The problem is, the OS has some onerous licensing restrictions that make it impossible for a lot of services to use its maps. The "mashup" culture has largely had to get along without the help of the OS, with Google Maps being the data source that a lot of companies work with. Some time back, Google even tried to strike a deal with OS to use its UK maps, but it foundered.
One emerging alternative to OS is the Open Street Map Project (OSM), which is trying to build its own mapping database for the UK. The idea is simple. Regular folk go out and map the landscape using their own GPS devices, and gradually a network of roads, footpaths and waterways emerges.
Nestoria's Ed Freyfogle told me an interesting story about OSM, of a Durham University student, Gregory Marler, who decided to live his student life without using any copyrighted maps. At the time he started in Durham, the town was more-or-less a blank space in terms of the OSM project, and so he set out to help create the map for the town.
Gregory's blog, Living With Dragons, takes its name from ancient maritime maps that might mark the unknown with "Here be Dragons". You can read an interview with Gregory on the Nestoria Blog.
The Open Street Map project is doing very well now, and recently celebrated the completion of the mapping of Brighton.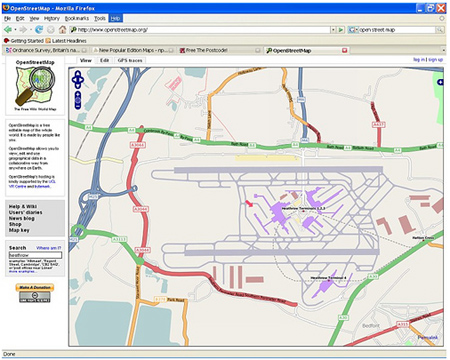 Terminal condition: Heathrow Airport on OpenStreetMap
The Guardian newspaper has started its own Free Our Data campaign, as it's not just the OS that's the problem. Many previously Government-run services have been privatised and allowed to take their data with them into the private sector, even though taxpayers' money was used to create the databases. In many cases, Government subsidies are still paid, so some of these companies can get paid both ways.
Postcodes are an often-cited example: the UK postcodes database belongs to Royal Mail, and it makes it expensive to license. Of course, many products and services allow postcode-to-map lookup (e.g. sat nav and many online sites), which they must pay Royal Mail for.
Here there are user-led projects like the New Poplar Edition and Free the Postcode, that are encouraging users to provide their own data mapping postcodes to map locations, so that eventually a free and open database will exist.
It's not all negative for the OS, though. The Geograph project is a project to collect at least one photograph for every OS map square in the UK. OS maps are split into 1km squares, with each square having its own reference number. For example, the centre of Heathrow airport is at TQ0775. The OS is an official sponsors of the Geograph project, and allows Geograph use of its maps as part of the site.
I think this is the kind of activity we want to see OS involved in, and it doesn't mean selling fewer maps, but rather selling more; I've contributed pictures to Geograph myself and consequently bought more OS maps in the last three years than I did in the previous 10. Let's see the OS embrace the web mashup culture more. Come on guys, let's have some more licensing flexibility.
Copyright (c) 2007, Blognation.com.
This article first appeared on Blognation. ®