This article is more than 1 year old
Moon makes us extra special, scientists say
Moon-forming collisions very rare
Having a moon like ours makes us very special, cosmically speaking. This is according to proper scientists at the Universities of Arizona and Florida (as opposed to Mystic Meg), who've been searching the universe with the Spitzer space telescope for other planetary systems like ours.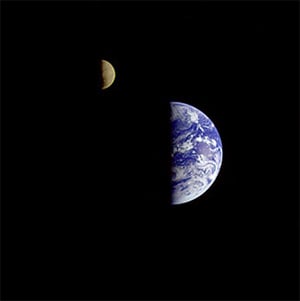 The Earth-Moon system is a rarity in the universe.
Credit: NASA/JPL-Caltech
The team has concluded that satellites created by an enormous collision (as the moon was) probably only turn up in between five to ten per cent of planetary systems.
"When a moon forms from a violent collision, dust should be blasted everywhere," said Nadya Gorlova of the University of Florida, lead author of a study published in the November 20 edition of the Astrophysical Journal. "If there were lots of moons forming, we would have seen dust around lots of stars - but we didn't."
The team went hunting among stars that are of a similar age to our own sun when the moon formed. After scanning 400 of these, they found only one system was immersed in dust. They then factored in the probable span of any "moon forming" period, and calculated that the best chance of a given solar system forming a moon like ours was between five and ten per cent.
Making planets produces large quantities of dust, since worlds are built up from huge collisions, like the one that formed our moon. For only one system in 400 to have any observable dust suggests that by the age of 30 million years, most systems have finished making their planets.
Younger star systems swirling in dust are likely in the process of forming their planets, Gorlova said. But the rarity of a system being dusty at 30 million years old actually reinforces the idea that something unusual has occurred. If all the other systems have made their planets and settled down, something else might be going on in the anomalous system.
The team also concedes that the dust they have observed doesn't indicate that a moon is actually forming. "We don't know that the collision we witnessed around the one star is definitely going to produce a moon, so moon-forming events could be much less frequent than our calculation suggests," said George Rieke of the University of Arizona, a co-author of the study.
Our moon is given credit for a lot: some suggest that the tides is caused have helped us (well, not us, but life more generally) emerge from the sea. Others have argued that the coincidence of its relative size matching that of the sun is vital to the development of science. they suggest that solar eclipses helped direct humanities attention to the skies, and kick-started our process of understanding the physical world we inhabit. ®