This article is more than 1 year old
Palm Treo 500v smartphone
Palm's best smartphone yet?
It's a really easy UI to get to grips with, and Palm's placed all the 500v's key applications, settings and functions. The only thing it lacks is a link to the camera, but once you've reached it through the Pictures & Videos app, or the icon-filled Main Menu - press the centre of the nav control when you're in the Today screen - you can quickly find it again in the Recent Programs panel.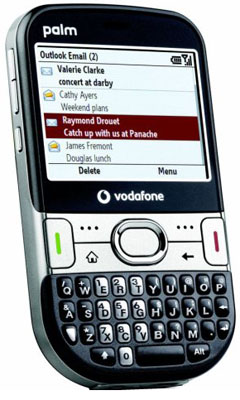 The black version looks better than the white one
But what the UI needs is the smooth scrolling of the iPhone. Here there's always a sense of jerkiness to the motion and a lag between the press of a key and the appearance of the menu. To be fair, it doesn't impede what you do and it's no worse than any other Windows Mobile device - better than some, in fact. But it's still not a smooth as a handset in this day and age really should be.
If the iPhone does nothing beyond forcing other phone makers to speed up their UIs, it will have been a success in our view.
The 500v is a 3G device, but it lacks HSDPA support, presumably to keep the manufacturing cost down. But since network subsidies tend to level that out, can the 500v really afford to be without it, especially since it hasn't got Wi-Fi either? Make no mistake, this is a data device. It's set up out of the box to use Vodafone Live! as a web portal and content source, and Microsoft's Windows Messenger is there too, ready to make use of the connection. A Google Maps app is ready to use.
So to is Mobile TV, and app that pulls down live Sky broadcasts onto the 500v. It sounds attractive, but at £5 a month for a postage stamp-sized picture - you can blow it up full screen, but the resolution's not up to the job - we can't really recommend it.
The handset has Bluetooth 2.0 with Enhanced Data Rate (EDR) connectivity and can operate as a wireless modem, but again that missing HSDPA support means it can't deliver true broadband speeds to your laptop. Still, Bluetooth was a fast way of getting stills snapped on the 500v's two-megapixel camera over to our main machine. Not that they were anything to write home about. Shots taken in bright light are fine, but are muddy and fuzzy in darker places. But then 500v is no worse for snapping than most similarly specced phones out there.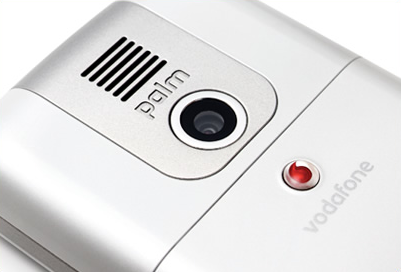 Decent resolution but basic
As you might have seen from the picture on the front page of this review, the 500v has no video-call camera. That's no loss to us - atually, it's an advantage: it makes for a neater look - but it might put a few potential buyers off.
Call quality was generally very good, but we missed the loss of Palm's patent threaded messaging, which presents a set of SMS messages exchanged between you and a chum the look of an IM conversation. Maybe Vodafone expects punters to use IM instead - we're not convinced though. Incidentally, the 500v is a tri-band GSM/GPRS device, so it'll roam in most, but not all, parts of the globe. Would it really have been that much of an issue to make it quad-band? 3G is limited to the 2100MHz frequency - again potentially limiting travellers who want fast data.
The battery life par for course for a 3G phone without Wi-Fi. Using the device for data - ie. using 3G and keeping the screen on - will sap the battery far more than calls do. So will using Bluetooth, particularly if you make use of the nice-to-have A2DP wireless headphone technology - though the handset comes with an adequate wired set.
Verdict
Palm's Treo 500v isn't the 'power users' Windows Mobile device - no Wi-Fi, no HSDPA - but it's an impressive attempt at bringing the handset family into the reach of the mainstream. It's wonderfully compact and it looks good. Palm's new UI is a big improvement on the standard WM one, and its micro-keyboard is as easy to use as anything on a BlackBerry or HTC device.

Palm Treo 500v smartphone
Palm's Windows Mobile Treo line goes consumer friendly and becomes the firm's best phone yet. PDA users will be less impressed...
Price:
From free on contrat; not available on pay-as-you-go RRP