Sweaty palms afflict us all sometimes, but for office workers constantly plagued by hands that feel like a wet fish then a hand-fan's ideal. Thankfully, one's been built into a computer mouse.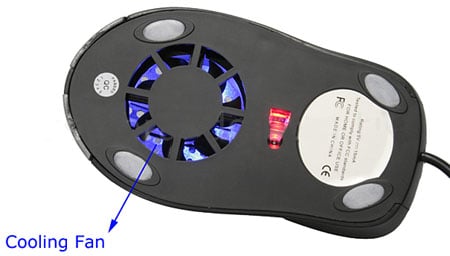 OptiWind: it really sucks, and blows
Dubbed OptiWind, the USB mouse has a fan built into its base that sucks air in and that then "blasts" it out through vents in the mouse's top surface to cool your hand down. Online retailer Brando claims the air flow is 28 cubic feet per minute, thanks to the fan's 1500rpm rotation speed. It also generates about 25dBA of noise.
The mouse provides an 800 dots per inch (dpi) sensitivity, which is low in comparison to high-end gaming mice, but should do the job for desktop applications. It's also compatible with Windows - although not the latest version, Vista.
The OptiWind mouse is available now from Brando's website for $22 (£11/€16). But sweaty-palmed Brits will have to make do with a tissue for the time being, because the mouse hasn't yet appeared on Brando's UK website.