China celebrates first lunar pictures
A nation 'standing tall'
---
China is celebrating the first pictures of the Moon beamed back by its Chang'e 1 spacecraft. The country's leaders hailed the mission as a success, but downplayed reports of plans to put a man on the Moon by 2020.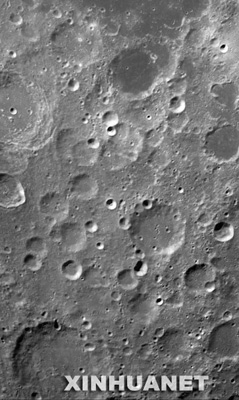 China's first pics of the moon. Credit: Xinhaunet
"There are no plans at the moment to send anyone on to the Moon. I've heard of foreign reports which say China will put a man on the moon by 2020, but I don't know of such a plan," said Sun Laiyan, head of the China National Space Administration.
"Please don't give us any more pressure. But I'm confident one day we'll put an astronaut on the Moon," he told a news conference.
State television showed the Chang'e 1 satellite celebrating the occasion by broadcasting the revolutionary anthem "The East is Red", Reuters reports, as the Premier Wen Jiabao visited mission control.
Wen said the mission had made a nation's 1,000 year old dream, a reality. "The Chinese people have the will, confidence, and ability to constantly compose fine new chapters as we scale the peaks of modern science and technology," he told a news conference. "The Chinese nation is fully able to stand tall among the world's ranks of advanced nations." ®