Apple 'looking into' duff Chinese hard drive claims
Responds to above-average drive failure rates
Apple has admitted it is examining claims that a number of its MacBook laptops include poorly manufactured hard drives that expose users to data loss.
"We've received a few reports that some MacBook consumer notebooks may have hard drive issues," a company spokesman told Information Week, "and we're looking into it."
The comment comes a month after Register Hardware reported on UK data-recovery company Retrodata's warning to Mac laptop users that it had received far more failed 2.5in drives from Apple machines that it would have expected given typical hard drive failure rates.
"We're getting 20-30 times more failed drives of this kind than others," Retrodata chief Duncan Clarke told Register Hardware at the time. He's has almost as many more since then.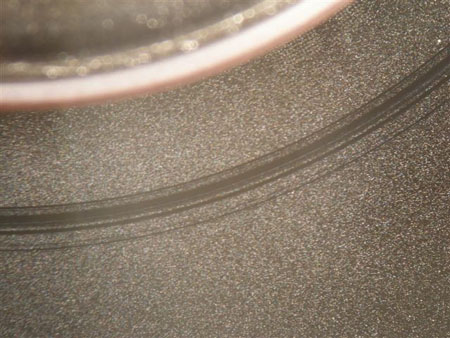 Damage to the disk surface
Retrodata found a common factor: all the failed drives were made by Seagate in the manufacturer's China factories and installed with firmware version 7.01. Every failed drive displayed scratches on the disk surface, which Retrodata identified as the result of the read/write head unexpectedly hitting the disk.
This kind of damage would likely destroy data held on the hard drive.
Clarke believes Apple should recall all of its computers fitted with such a drive and provide owners with free replacements. The drives, he claimed, are not being manufactured to a sufficiently high standard, a result of low-cost production in China, rather than a flaw in the drives' design.
We asked Seagate to comment too, but it has not yet done so.