Someone at Sony - a man, probably - said the new Walkman NW-E013 looked like a lipstick dispenser, so now the compact MP3 player is being dispensed to women. It's other femme-friendly characteristics: a bright, glossy casing coming in an array of charming colours.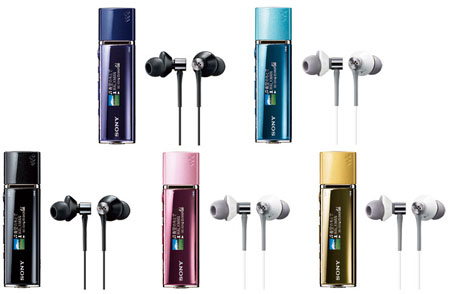 Sony's Walkman NW-E013: lipstick like
Actually, the NW-E013, with its shiny look and bright highlights makes it look like those free spray samples the glossies give away. But this is no freebie: Sony wants Japanese ladies to fork out ¥8980 ($83/£40/€56) for it.
The player has 1GB of song-storage, ready for MP3-, WMA-, ATRAC- or AAC-encoded tracks to be copied over from a PC. Flip the cap to reveal the Walkman's USB (2.0) connector. Sony claims the player will play music for 30 hours on a single charge of the gadget's built-in battery - which will give you three hours' playback if you just charge it for a for-God's-sake hurry-up-I'm-in-a-rush three minutes.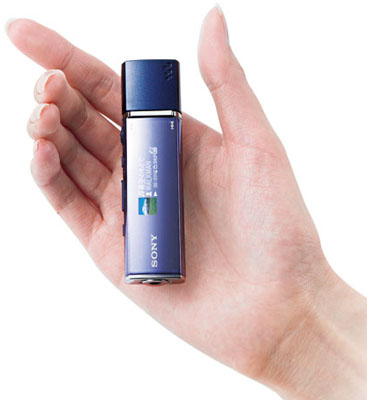 Sony's Walkman NW-E013: palm friendly
So far, so standard. However, I was attracted to the NW-E013's "manoeuvrable button layout", which implies you can flip the switches around. Unfortunately, Sony hadn't flipped the switch on that part of its Japanese website, and I was unable to confirm this.
Come to think of it, this is probably just a quirk of Google's translation software - Sony really means the buttons are laid out sensibly. Another Googlism is the intriguingly entitled "drip-proof response" feature mentioned on the spec sheet. We'll have to remain in the dark on this one: the NW-E103 doesn't have it.
The 29g player's colours are black, violet, pink, blue and gold, but the in-the-earphones only come in black or white. The display is full colour: it's a three-line LCD.