This article is more than 1 year old
Hacker defaces temples to OS X
Apple fanboys crawling with maggots
A self-described Apple user, presumably fed up with the smug superiority of "Mac," the hipster mascot featured in the ubiquitous "Get a Mac" commercials, is targeting OS X enthusiast sites with defacements that accuse them of excessive fanboyism.
Problem is, the stunts appear as forced and manufactured as the Apple campaign itself.
Over the past week, a person going by the name Malcor claims to have tagged at least four Mac blogs with graphics that cast the Cupertino company in a less-than-favorable light. They include images of rotten and bruised Apples being defiled by maggots and other pests and petition Mac users to exercise a bit of restraint.
"This is a message to the rest of the Mac community, so listen up," the defacement reads. "Ever heard of hubris? Tone it down and you will not be attacked."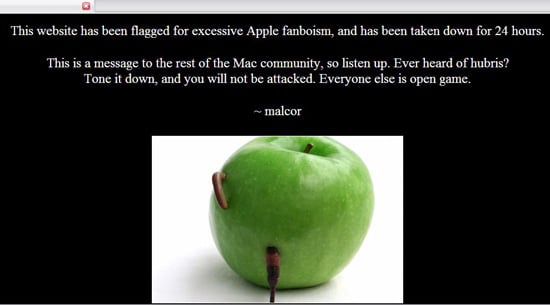 Malcor has even chronicled the "hacks" in a blog titled Rotten to the Core, where the persona talks up the ability to penetrate the security of websites that have been tagged.
"And make no mistake, I don't mean to imply that I'm the worlds [sic] greatest hacker and can work my magic on any site," Malcor writes here. "The #1 site I'd love to take down for all its Apple fanboism is digg.com but I doubt I'll be able to find any exploit holes on a site so big."
Over the past several years, Apple has emerged as a bigger target to cyber miscreants, in large part thanks to the growing popularity of its flagship Macs, the wide deployment of its iTunes and QuickTime software and cultish fanaticism of the iPhone status symbol. Several weeks ago researchers uncovered a sophisticated porn Trojan that targets Mac users. We were starting to think Malcor was part of the same zeitgeist.
The thing is, the defacements aren't really hacks at all, at least according to one publisher who says images posing as defacements on Apple Matters and iPhone Matters were, in fact, ill-considered "publicity stunts" that were designed to appear as breaches.
"The site was not hacked," a person who works for Apple Matters told us. "I was contacted by someone [and asked] to pretend it was a hack and it was a mistake."
The screeds have since been removed and replaced with an apology by the publisher of the sites. (Our thanks to the authors of this entry on the McAfee Avert Labs Blog for spotting the defacements.)
Of course, someone who was hacked might be simply saying the defacements were a hoax rather than admitting his system was breached. And Glenn Wolsey, publisher of the eponymous Glenwolsey said in an email that the hack of his site was genuine. Ah, the intrigue! ®