US navy's robot carrier plane building fast
Droid Top Gun to make deck landings in 2011
The US Navy's new stealth robot carrier plane is now "structurally complete", according to its maker, and is now being fitted out with subsystems while software tests begin. The Unmanned Combat Air System Demonstrator (UCAS-D) is expected to make its first flight the year after next, and its first carrier deck landing in 2011.
"Once we get robust flight controls we will begin failure detection and accommodation testing, which is the real key to any unmanned aircraft," said Scott Winship, UCAS-D project chief at Northrop Grumman, talking to Flight International.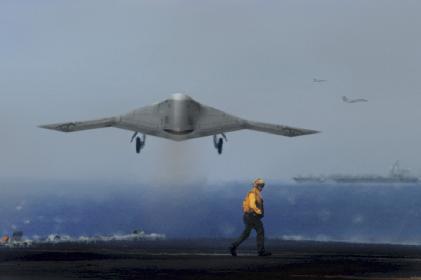 Things were livelier when Maverick was around...
Although a firm decision by the US Navy to build UCAS-D was only reached a few months ago, the project is well advanced because Northrop are using a design developed during the earlier, cancelled US airforce/navy Joint UCAS programme.
"We're finishing a programme started seven years ago," Winship told Flight.
The $635m UCAS-D contract will see Northrop produce a brace of aircraft and - if successful - prove that they can operate from US Navy carriers, traditionally considered one of the more demanding flight environments for human-piloted jets.
If the project succeeds, one of the last major piloting feats will have been replicated by robot aircraft. Autonomous systems have already shown that they can perform landing, takeoff, fly missions and even do air to air refuelling.
Human passengers will probably always insist on having a human pilot up front. Anyway, an airliner wouldn't become a lot more efficient for having its pilots removed because it already has to carry hundreds of people. Robot airlines aren't on the cards any time soon.
But a pilot and his accompanying paraphernalia (ejection seat etc) are a noticeable load and a serious limiting factor for military aircraft. The human restricts potential time in the air and maximum G loads as well as payload. There is a real technical case for unmanned combat jets, especially autonomous ones which don't need a high-bandwidth comms link. But few machines get built unless people with money want them; and in this case a lot of the people with the money are pilots and see themselves as warriors. They would lose both identities, conceivably, if autonomous or remotely-operated combat jets became widespread.
UCAS-D has a good chance of succeeding technically - whether or not it will usher in a new dawn remains to be seen. The Flight report is here. ®