Review The first thing you see when you pull the T200 out of the box is a great big sticker proclaiming the camera delivers "Full HD 1080" still images. So you would've thought that Sony would make it easy to enjoy this feature. But no - it's only when you read the instruction book that you discover that the HD connecting cable is an optional extra. Duh.
That's not to say that the T200 doesn't have some very nice features. For a start, it looks very smart and if you've seen the DSC-T100, you'll have a distinct feeling of déjà vu as they look almost identical. Both cameras use a sliding front cover which protects the lens and powers on the camera when it's pushed downwards.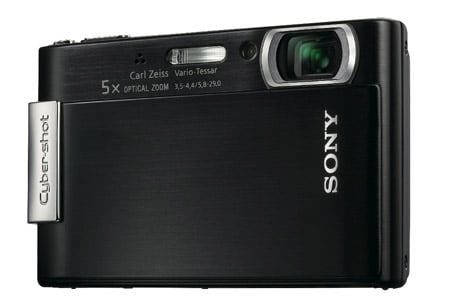 Sony's DSC-T200: smart-looking snapper
Along the top of the T200 you'll find the power button, shutter button, a tiny playback key and a zoom lever. At the back, you'll find the 3.5in LCD touchscreen. Actually, it's closer to 3in in reality, because the display has black borders on both sides. Finally, at the bottom is situated a slot for the lithium-ion battery and another for the Memory Stick Duo/Pro card.
Inside, there's 5x optical zoom, Carl Zeiss Vario-Tessar lens equivalent to 35-175mm on a 35mm camera, plus the usual Sony offerings: Steady Shot, red-eye reduction and face-detection systems. Image size ranges from 3264 x 2448 down to 640 x 480 pixels, and there's 31MB of internal memory. The ISO range is from 80 to 3200.
In addition to the 16:9 mode, the DSC-T200 also shoots in 3:2 aspect ratio for postcard-sized prints and can shoot movies at 640 x 480 resolution at 15- or 30fps. There are ten scene selections, including landscape, beach, snow and smile. But more on this later - for now, it's enough to say that if you like lots of manual control, then this is not the camera for you, although you can tinker about with the focus, exposure, white balance, flash and metering, depending on what camera mode you're in.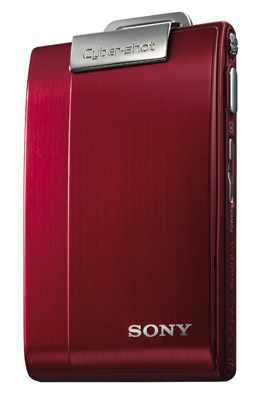 Also available in red
If we had to sum up in one word how the DSC-T200 operates it would have to be 'fiddly'. This isn't the most intuitive camera to use, which might come as a surprise as it boasts touchscreen control. Now, touch control can be good, especially if you're using a microwave to heat up your pizza, but we're not convinced that it works that well on this camera. For a start, the screen isn't that sensitive and we found that you had to press it fairly hard to get things moving along.
Using the touch menu system involved a lot of tapping, and Sony seems to have thrown everything but the kitchen sink at the menu display. In normal display mode, there are more on-screen icons than on a Space Shuttle flight deck and even the simple display format is festooned with icons for image size, timer, recording mode, menu selection, flash mode, macro and display type. There's also a Home option that lets you select auto adjustment, screen selection, program auto and movie modes.