Review AMD's ATI Radeon HD 2900 XT wasn't a bad graphics chip but it spent too long in development and failed to take the fight to Nvidia's GeForce 8800 series. But after a quick die-shrink from 80nm to 55nm, the Radeon HD 2900 XT has been reborn as the Radeon HD 3870.
The new fabrication process is a good start but it doesn't guarantee success as Nvidia has just introduced a 65nm process for the new 8800 GT and will presumably be using it for future GeForce 8-series GPUs. The point is that Nvidia got its design for the 8800 pretty much on the money while AMD appeared to make a pig's ear of the 2900.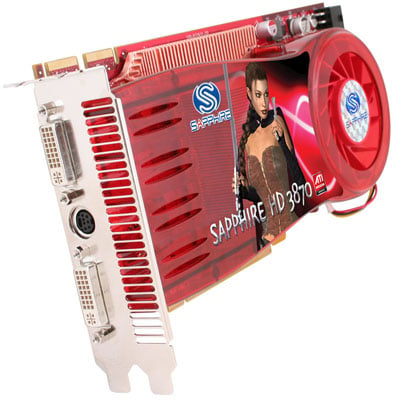 Sapphire's HD 3870: two-slotter
As part of the new makeover, AMD has adopted a numbering system that ditches the old Pro and XT suffixes so the new mainstream part is called the 3850 while this high-end part is the 3870.
Internally, the 3870 is near-identical to the 2900 XT, although the reduction in core size has allowed AMD to add the UVD (Unified Video Decoder) video-processing core that was part and parcel of the 2600.
The other tweak is support for DirectX 10.1 and Shader Model 4.1, which are scheduled to be part of Windows Vista Service Pack 1, due - fingers crossed - early next year. As things stand, Vista and DirectX 10 have made very little impact on gamers so a point release may sound like a minor update but a few hours in the company of AMD's Richard Huddy will persuade you otherwise. Huddy spends his time liasing with games developers and learning what they want from hardware, and the way he tells it DirectX 10 is a bit of a mess and many of the ports of DirectX 9 games to DirectX 10 only add to the problem as they have been done poorly and kill performance.
DirectX 10.1 will sort out a number of the problems thanks to the addition of Global Illumination and, in particular, Deferred Rendering, which will allow the simultaneous use of HDR and anti-aliasing. At present you can have one or the other but not both.
As many of us are waiting for Vista SP1 before we contemplate installing the OS on our PCs the idea of a graphics card that supports DirectX 10.1 is quite appealing. We will have no idea whether the new API makes a significant difference until decent DX 10.1 games come to market in, what, 2009?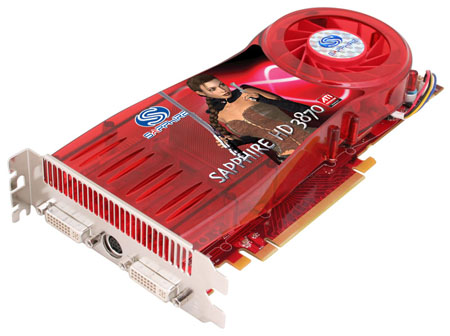 Cool runner
AMD makes it clear that 3870 is very similar to 2900 XT and that HD 3850 is merely clocked slightly lower than its big brother, but the power draw figures are quite dramatic. AMD's figures show that the 2900 XT draws 220W at peak load while the 3870 draws 105W and the 3850 is just below the one hundred mark at 95W. As you'll see in our testing, the figures we measured were slightly lower than that: 180W for the HD 2900 XT, 90W for the 3870 and a GeForce 8800 GT drawing 110W.
Sponsored: Ransomware has gone nuclear