Solwise DMP-1120w UPnP/DLNA network media player
Apple TV wannabe?
---
Review From the Apple TV to D-Link's Media Lounge and Netgear's Wireless Digital Media Player there is currently no shortage of ways of getting PC-held content onto a TV screen and home audio system without wires. As with most things in life, while some of these products are of a truly fine vintage others prove to be merely vin ordinaire.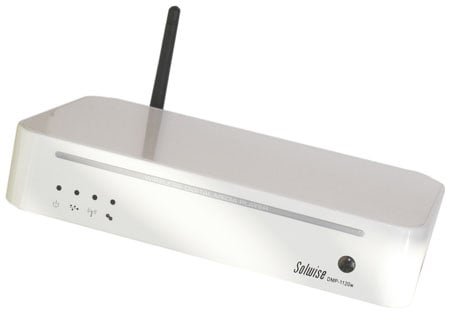 Solwise's DMP-1120w: links PC to TV, wirelessly
From those makers of home networking and sundry VoIP kit, Solwise, comes the DMP-1120w wireless UPnP/DLNA digital media player - a name that may have those not fluent in the acronyms of modern technology scratching their heads in puzzlement - is, alas, drawn from the latter keg.
The basic specification is nothing to get too wild about. There's no HD output and since the DMP-1120w has no hard drive, your PC, Mac or NAS box will have to be switched on continuously in order to get the most out of it. The box is unable to grab content off your machine on its own, which means that in order for it to work all your media will have to be logged in to Windows Media Player 11 or you'll need to install a Digital Living Network Alliance (DLNA) complaint media server app such as TVersity or Media Tomb.
The DLNA media server option at least means you can use the DMP-1120w with a Mac or a Linux box as well as Windows XP and Vista. In addition to WMP 11 on a PC, we tried it out with Elgato's EyeConnect software on a MacBook Pro.
Niggling problems abounded from the off. Set-up should be straightforward: plug the box into the TV and follow the on-screen instructions and... well, for some reason it just didn't want to talk to our wireless router. It turns out the router was working on channel 13 and the Solwise box wouldn't acknowledge, or select, a channel above 11. Changing the router's broadcast channel really shouldn't be necessary to set up a media player like this, but in this case it was. At no point in our test did the Ethernet or wireless activity lights on the box so much as flicker to let us know a signal was being received, which didn't make matters any easier.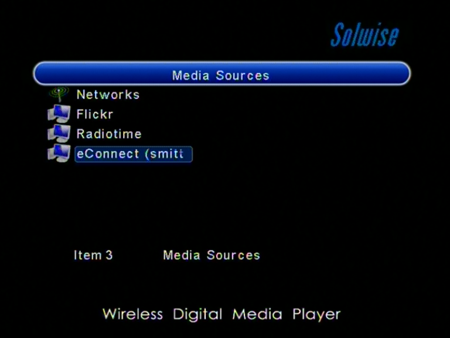 The UI's pretty basic
Having got a network signal we then had no sign of our laptop PC as a "Media Source". So we tried messing about with all the usual settings - firewall, WMP 11's media sharing options and the like - but still no joy. After some serious head-scratching we tried as an act of final desperation plugging an Ethernet cable into our PC from the router and suddenly we had media. Universal Plug and Play, our left foot!