Even though the 4GB version of Asus' elfin Eee PC isn't exactly easy to get hold of, some system sellers have started taking advance orders for the as-yet-unreleased 8GB model.
Set be available in both white and black versions, the 8GB solid-state disk Eee PC comes with 1GB of DDR 2 memory - double that installed in the 4GB model.
Like that machine, the 8GB incarnation has 802.11b/g Wi-Fi; three USB ports; a 10/100Mb/s Ethernet port; a 7in, 800 x 480 display; and a 900MHz Intel Celeron M ULV processor underclocked to 630MHz.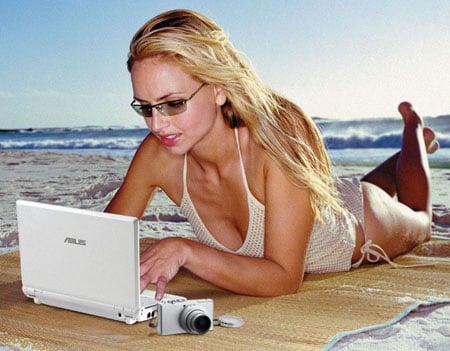 Asus Eee PC and friend: looking forward to the blue version?
The sub-sub-notebook comes pre-installed with Linux and a basic user interface, though it's easy to tweak to gain a full Linux desktop, to install Windows XP or even Mac OS X Leopard.
Here in the UK, one reseller, Clove, is offering the 8GB Eee PC on pre-order for £304.32 - around £84 more than the average price of the 4GB model. The unit is due sometime in Q1 2008.
Asus recently told us it was focusing on the 2GB and 4GB Eee PCs in a bid to meet demand, and that it wouldn't begin producing the promised 8GB model until its has production of the lesser models has ramped up somewhat.
Likewise, it's focusing on the white and, more recently, the black models. Asus has promised other colours: pale pink, sky blue and a light green that we can only imagine appealing to Eee PC completists. Again, these colours aren't due to appear until next year.
Related Review
• Asus Eee PC 4G sub-sub-notebook