Legendary guitar manufacturer Gibson is reporting plenty of interest in its self-tuning Robot Guitar.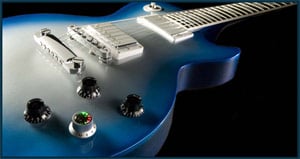 The technical details of how the axe keeps the strings nicely in tune - via pitch-monitoring bridge, CPU, and servo-motored machine heads - is available here.
All the guitarists among you need to know is that it boasts six preset tunings and the ability to tune a new string within seconds. Inventor Chris Adams explains: "The only thing you have to do to start is pull the knob, strum the strings, and when everything on the display is blue, you are done."
The Robot Guitar is available in a limited edition from Friday for $2,499 (list of dealers worldwide here).
According to the Telegraph, anyone wanting to get their hands on one had better move quick, since Gibson Guitar chairman Henry Juszkiewicz has said: "We expect it to sell out within hours on Friday, and have been taking reservations for orders as fast as we can answer the phone lines." ®