2007's Top Products Intel has been busy sending out a batch of 'Penryn' Core 2 Extreme QX9770 processors to every tech site in the known universe, and if you take a look at some of the reviews that have popped up you'll spot a common theme. The QX9770 is the first desktop processor to run on a 1600MHz frontside bus (FSB) but right now there are no desktop chipsets that support this new speed.
On the server side, Intel has 1600MHz covered with its 5400 series of Xeon chips and chipsets, but we're in new territory on the desktop as the X38 chipset's FSB tops out at 1333MHz.

Intel's Core 2 Extreme QX9770: Penryn-plus?
Early in 2008, Intel will launch a brand new chipset called the X48 which appears to be exactly the same as X38 but with the addition of the 1600MHz FSB - which makes us rather wonder why Intel didn't simply name the new spin as X38 2.0. For the time being, most reviewers have been in a predicament as the only motherboards that support the QX9770 use either the X38 or the P35 chipset and have a Bios that has been modified by the motherboard manufacturer to accommodate the faster FSB.
Happily, Register Hardware has a trick up its sleeve: we have got our mitts on an Asus P5E3 Premium motherboard which uses X48 chipset. So we're in a position to put the QX9770 through its paces using an Asus P5K3 Deluxe with a P35 chipset, a Gigabyte GA-X38T-DQ6 with an X38, and the P5E3 with the X48.
The QX9770 has a clock speed of 3.20GHz (8 x 400MHz) compared to the 3.00GHz QX9650 (9 x 333MHz) we reviewed last month. The TDP has increased from 130W to 136W, but other than that the two chips have identical specifications with four cores and support for the new SSE 4 instruction set. They're both made using a 45nm fabrication process.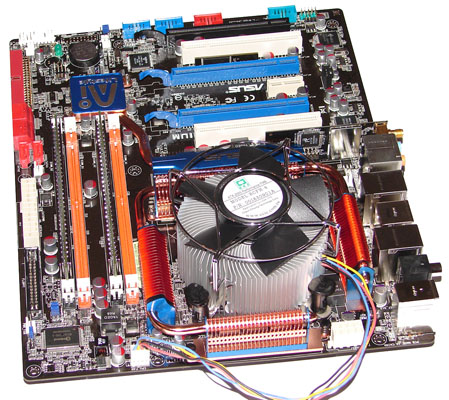 Asus' P5E3 Premium: packing the X48 chipset
Starting with the Gigabyte motherboard, because it arrived first, we installed beta Bios F4a and ran the QX9650 to give us a baseline for comparison. PCMark05 is a good all-round benchmark for system performance, while DivX 6.7 uses SSE 4 to fully stress the latest processors. Finally, encoding AAC music files with iTunes gives a decent all-round idea of how much horsepower you've got in your PC.
Sponsored: Webcast: Simplify data protection on AWS