Creative has extended its Zen line of Flash-based compact handheld media players with a 32GB model.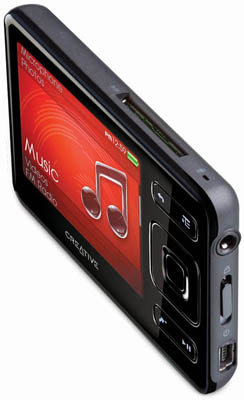 The 83 x 55 x 12mm Zen - reviewed here - sports a 2.5in, 320 x 240, 16.7m-colour display and the ability to play MP3, AAC and WMA music files, along with MPEG 4, WMV and DivX video, and JPEG pictures. There's an FM radio on board too.
When the player was launched in August - just ahead of the introduction of Apple's third-generation iPod Nano, reviewed here - the gadget was offered with a choice of 2GB, 4GB or 8GB of content storage, with a 16GB model available in some territories, such as the US.
The new model doubles the capacity of the latter model - but as yet it's not known whether the price will double too. The 16GB version costs $250 and £200 in the US and UK, but local pricing has not yet been revealed.
Still, there's hope that the high-capcity Zen won't carry a high price: it costs ¥39,800 in Japan, just 21 per cent more than the ¥32,800 16GB model.
The 32GB Zen is expected mid-December.
Related reviews
• Creative Zen
• Third generation Apple iPod Nano
• Archos 605 Wi-Fi personal media player
Similar topics