You're got to admire the spirit of raw capitalism that drives the world's favourite tat bazaar, as exemplified by the case of the eBay promotional USB Xmas lights.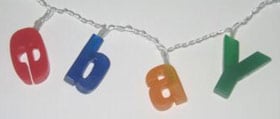 eBay apparently recently handed out strings of illuminations, as seen here, to selected users, presumably as a way of thanking them for their sterling efforts in swelling the company's coffers.
Looks like it picked the right vendors, too, because the buggers have wasted no time in flogging the thoughtful gift to those not fortunate enough to be on eBay's Xmas prezzie list.
In case you're wondering who in his or her right mind would stump up for a set of eBay novelty lights, they are described as "rare", and, er, well, that's about it. We suspect this description may be misleading, and therefore quite possibly illegal, since eBay is awash with the bloody things - as evidenced by less than frenzied bidding. ®