Below this is the hub of the phone's navigation control surrounded by an array of keys: a couple of soft-menu controls, a main menu key and a clear key. Nokia has nudged the green and red call and end keys right to the edge of the casing, and made them sliver thin. This is presumably to accommodate the set of additional semi-hidden music player controls, squeezed into the space around the nav control, which light up when the music player starts playing.
An unlabelled silver key on the right of the panel takes you into a new multimedia carousel menu, pulling up icons for recently accessed content such as music, games, images and web links. It's something novel for a Nokia and points to further menu revamps in the future. It looks good on the display, but doesn't feel like an essential part of the menu architecture.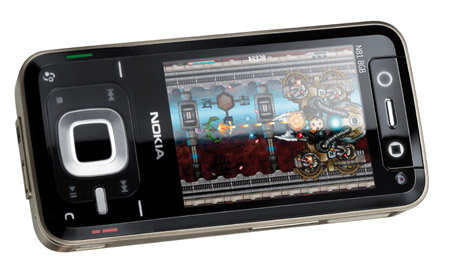 N-Gage reborn
Cramming all those buttons into such a small space on the keypad isn't as clever as it might sound. It's oh-so-easy to hit the wrong keys: a heavy-handed touch on the C key, for instance, and you can easily accidentally hit the adjacent Play button - not so good for those discreet text-messaging-in-a-meeting moments.
The shrunken call/end keys are too small for our large digits, while by contrast the prominence given to the multimedia key is odd. On the plus side, more functionality has been added to the music player controls, as you have the option to transform the central nav control into a touch-sensitive 'wheel' for iPod-style tune selection. This isn't set up out of the box – you have to select it from within the Settings menu. It's far from being as smooth or fast as an iPod, but can get you through menus more quickly than standard scrolling can.
Adding to the button count, above the display and flanking the earpiece, are two extra keys for gaming. The usefulness of these becomes clear when N-Gage games are played in landscape orientation. Our review sample had only three demos loaded, so we couldn't give N-Gage a full run out... we'll have to wait till the full N-Gage application and games portfolio is launched in later this month.
The springloaded slider is a welcome touch to the N81's exterior, and is effective in quickly locking and unlocking the keypad – handy too when using the music player. A 3.5mm headphone jack is present, allowing the average quality earphones bundled with the handset to be replaced with better ones.
Sponsored: Practical tips for Office 365 tenant-to-tenant migration